Category Archives:
Other events
GiDM's going north GiDM, also known as Guerillaz in Da Mixx is headed north this weekend; riding with the Sunset Crew in the East Bay. Ride starts at Berkeley's Ashby BART station this Saturday, July 12th at 6 pm. For those of you not familiar with GiDM rides, the rides are shorter focusing mainly on […]
We get some great feed back from you, our monthly riders passionately describing what a great time you had on our monthly rides. In addition to the ride itself, you give some great compliments on the food, the Raven Bikes, the themes expressed in costumes, and the quirky entertainment; such as the Silicon Valley Roller […]
It's the most wonderful time of the year. Yep that's right. It's time to choose themes for upcoming rides. We'll also talk about BIRDS and Ravens, and an upcoming BIRD party. Here are the details: Who: You What: San Jose Bike Party Volunteer Meet up When: Monday, December 16, 2013 Time: 7 PM […]
Come one, come all that special time of year is near. Just before summer calls it quits in exchange for fall, we get one last day of fun, adventure, and festive tom-foolery on our bicycles!! Oh, and did I mention the beer festival? That's right ladies and gentlemen, it's time yet again to make the […]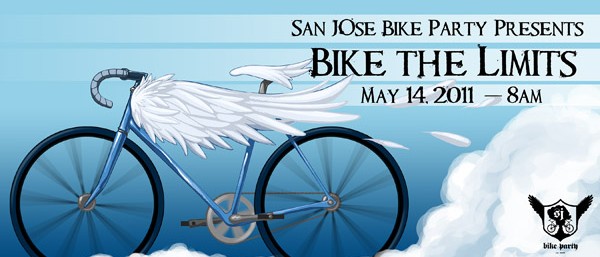 Save the date for San Jose Bike Party's second annual Bike The Limits Ride! Bike The Limits get its name from last year's routing, which rolled along the San Jose City Limits for 30, 60, or 100 miles! This year's route will have a similar theme. The short route will cover about 33 miles, the […]
Turning Wheels for Kids is a grassroots organization that collects donations, gets bikes and helps get them distributed to kids who need them. Registration for their Bike Build event on December 11th is now closed, but they are still looking for donations for this year's giving program. For more information, please see their website at […]
The Supermarket Street Sweep is an annual bike race that benefits the San Francisco Food Bank. Participants ride around the city to local grocery stores picking up food to bring back to food bank. There are "speed" and "cargo" categories, as well an additional prize drawing for extra food donations. At the end of the […]
There will be two great events this weekend. These are both great examples of "building community through bicycling!" The first is the Tour de Fat bike festival in Golden Gate Park in SF this Saturday, Sept. 25th. Many SJBPers are heading up so please look at the Tour de Fat SF facebook event page that […]
"Sneak Peek" Vol Mixer & "mini" Pre-Ride/Test Ride this Wed Aug 11th Want a "sneak peek" into August' ride? And how you can help with the behind the scenes logistics to actually pull it off? Join us and learn how we can all kick it up a notch this month. Join a "half" test ride to […]
Ride on over to the Bike Party meeting happening Wednesday!