We get some great feed back from you, our monthly riders passionately describing what a great time you had on our monthly rides. In addition to the ride itself, you give some great compliments on the food, the Raven Bikes, the themes expressed in costumes, and the quirky entertainment; such as the Silicon Valley Roller Girls, San Jose Taiko, and Red Bull's trials rider Kenny Belaey.
But what we hear the most is just how much you like all of the lights and music. It was San Jose Bike Party that first strapped speakers onto some cargo bikes, added some amps, a DJ app on an iPad, a microphone and some VHF transceivers to distribute the playlist to other roving "speaker bikes".
Well that spirit of community collaboration and mobile art just got a boost. San Jose Bike Party and San Jose's own Tech Museum of  Innovation are planning some future Bike Party Hacker events. Stayed tuned for more details. For now we'd like to tell you about Bay Area Makers Startup Weekend – powered by Google for Entrepreneurs and hosted by the Tech Museum.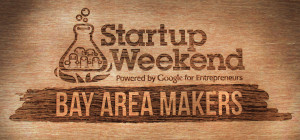 Startup Weekend is a 54-hour event where developers, designers, marketers, product managers and startup enthusiasts come together to share ideas, form teams, build products, and launch startups! Beginning with open mic pitches on Friday, attendees are encouraged to bring their best ideas and inspire others to join their team. Over Saturday and Sunday, teams design and develop business plans while constantly streamlining their startup vision. On Sunday evening, teams demo their prototypes, listen to judges' feedback and win prizes. Check here for more information. The event starts next weekend, July 11-13. See link for schedule details.
So if you would like to have the bike community represented give it a try. Again stay tuned for details on some bike related hacker/maker workshops. We hope to get the party started once summer winds down.