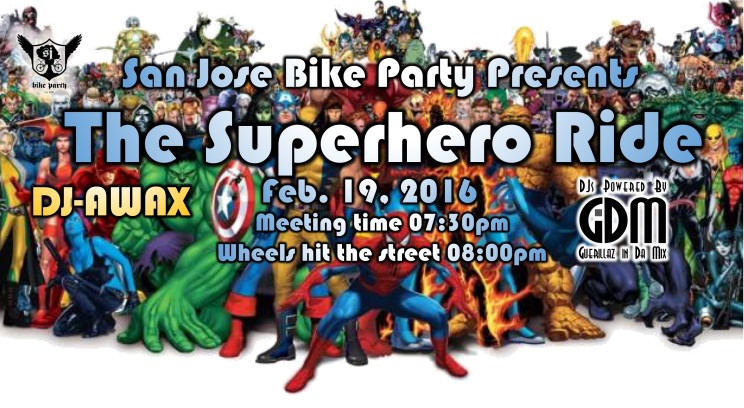 Be A Bike Party Hero! Come celebrate with us February 19th at 7:30PM!
Our theme this month is superheroes! That's right, pick your favorite and wear it with pride!
Mark your calendars for one of the four SJBP test rides this month, because we love to see everyone out supporting SJBP!
Our test rides help us improve our routes so you and your friends have a better Bike Party, so come join the die-hard riders and casual cruisers who help keep us rolling for a fun daytime or evening social ride.
Test Rides

Slow Pace Test Ride (Facebook Event)
Wed, January 20 @ 7:45PM
Children's Discovery Museum
Slow Pace Test Ride (Facebook Event)
Sun, January 24 @ 12:00PM
Children's Discovery Museum
Brisk Pace Test Ride (Facebook Event)
Fri, January 29 @ 6:45PM
Children's Discovery Museum Parking Lot
Fast Pace Ride (Facebook Event)
Tue, February 2 @ 7:15PM
Children's Discovery Museum Parking Lot
Average Pace Test Ride (Facebook Event)
Thu, February 4 @ 7:30PM
Children's Discovery Museum Parking Lot
Average Pace Test Ride (Facebook Event)
Sat, February 6 @ 6:30PM
Children's Discovery Museum Parking Lot
Average Pace Test Ride (Facebook Event)
Mon, February 8 @ 7:30PM
Children's Discovery Museum Parking Lot