This Saturday the Keep America Beautiful Organization and the City of San Jose will be sponsoring the Great American Cleanup. San Jose's own Bike Party's Raven Team will be on hand for a fun filled day making San Jose shine. So come join us on April 26th for this community cleanup event. In the morning we will be putting the shine on San Jose and in the evening we will be guests of the San Jose Earthquakes vs. Chivas USA for the ceremonial coin toss. Check here for more info on the Earthquakes event.
We'll meet at Arena Green, the park just to the east of the SAP Center at 8:30AM . Ravens will be concentrating on Guadalupe River Park and the trails in that area. We will have Raven bikes on hand. Along with litter sticks, brooms, dustpans, and of course our own garbage bags. We will wrap at noon. Lunch is included for those that work the full event. Leave a comment here and we will email you back if you want to get involved, or just show up.
Here are some useful media links.  #keepSJclean #Quakes74   Twitter @KerriRomanow
Bright Green San Jose Facebook page (like this)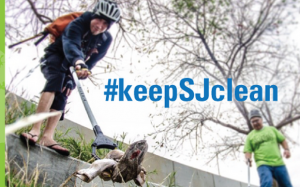 Let's Do This!