Archives by date
You are browsing the site archives by date.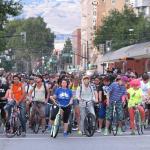 As the evenings get colder, the nights longer, and the ride more smaller and intimate, its a good time to reflect on what a great year Bike Party enjoyed in 2014. As one comment to the San Jose Metro weekly newspaper put it "San Jose Bike Party is better now than it has ever been […]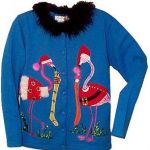 Ugly Sweaters and Holiday Lights Ride Join us for our last ride of the season as we don our ugly sweaters and view the San Jose's beautiful holiday lights. The chance of rain should be reduced by ride time. Good thing cuz we're riding through some great neighborhoods for lights. We'll start by riding through […]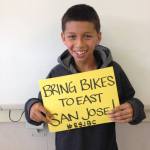 This Friday the East San Jose Bike Coop will be initiating the first youth based feeder ride from the East Side. San Jose Bike Coop is a new organization doing great things incorporating safe riding and bike maintenance to middle school riders. Let's hope the weather cooperates but as Cassidy Kakin of ESJBC tells us they […]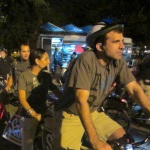 We are looking forward to next Friday's Bike Party. Last month was a blast and this month the fun will continue. We will now go into Winter mode. Here is a couple of things you should know. During the winter months when the ride is smaller we venture into San Jose's neighborhoods. Please respect the […]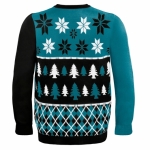 The San Jose Sharks get into the holiday season rockin' their own ugly sweaters. Featured in this mornings Hockey News, the online paper stated "Over the past few years, the San Jose Sharks have made a habit of having a bit of fun around the holiday season. Be it an infomercial for a holiday album […]
Looks like a great turnout for the annual Turning Wheels for Kids Annual Big Bike Build. Three San Jose Bike Party related teams of volunteers this year: 1. San Jose Bike Party 2. Guerillaz in Da Mixx 3. Emmons Family Team Thanks to all for stepping up and helping the community. For more information check […]
The folks over at the Green Ninja show produced by the Environmental Studies department at San Jose State University has produced this video highlighting San Jose Bike Party. Thanks to Eugene Cordero and all the other "Green Ninjas".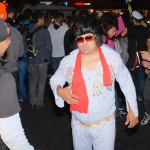 What a night. The first of our winter rides was off the charts. With a rain free cool evening we hit Campbell and West San Jose like Las Vegas players. Elvis was even seen on the dance floor. Thanks to everyone for packing their trash. The regroups looked fantastic this morning. You're all awesome. Thanks […]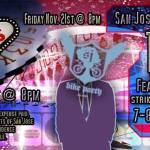 Get your best dress, you hippest casino wear, cuz we're going to Vegas baby! It's the Lucky 777's ride so play 'em as you see 'em, grab your two wheeled friend and let's go! Here's some tips for tomorrows ride: Dress warm and bring some foul weather gear but the chance of rain is low; […]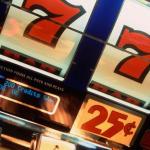 Feeling Lucky. We sure are. This month, it's Vegas baby! We love bright lights, Vegas dance clubs, and the chance to make new friends. So lets's do this. As always we ride on the 3rd Friday of every month. Wheels hit the street at 8 pm and all ride and route details will be […]