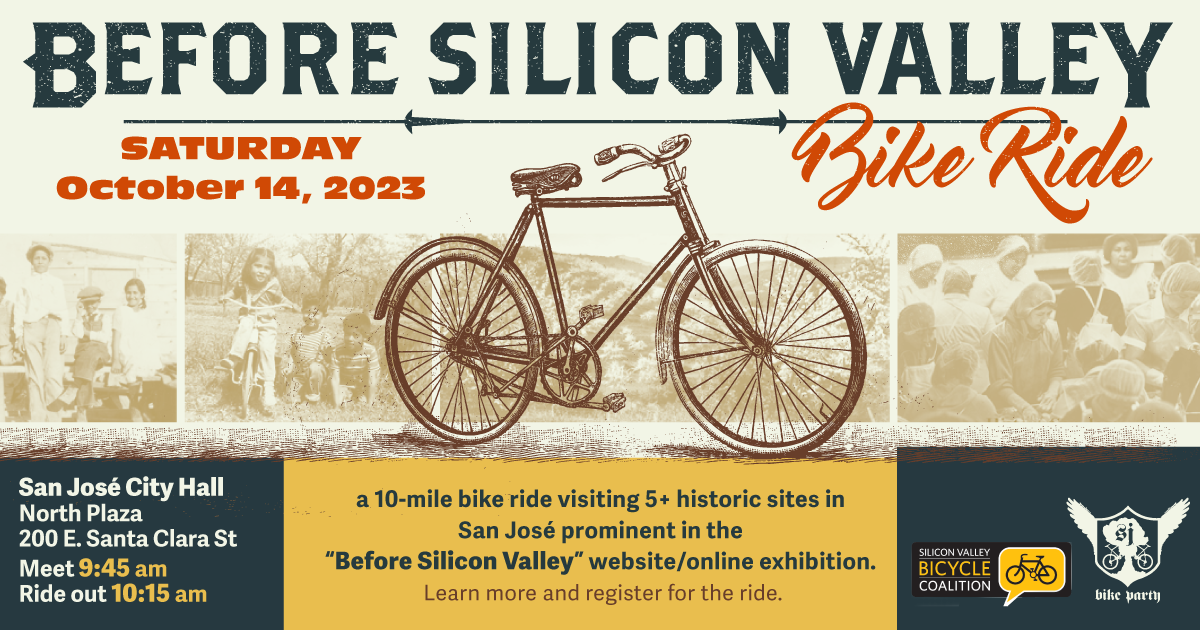 When: Oct 14 2023 9:45AM – 4:00PM
Who: San Jose Bike Party
Celebrate the launch of the website/online exhibition, "Before Silicon Valley Project, Mexican Agricultural and Cannery Workers of Santa Clara County 1920-1960."
10 a.m – 1 p.m.: A guided ~9 mile bicycle ride visiting 5+ sites in Downtown, the Gardner and Mayfair neighborhoods profiled in the online exhibition. Open to all ages, the route will prioritize calm streets and/or those with bike lanes. Organized with support by
San Jose Bike Party and the Silicon Valley Bicycle Coalition.
The ride is free, though you must register in advance: https://www.eventbrite.com/e/before-silicon-valley-bike-ride-tickets-717253904737 – so sign up today!
The ride will start and end at City Hall, just in time for the Before SIlicon Valley Tardeada/dance (1-4pm), an afternoon of historic music, film screenings and more to celebrate the online exhibition's launch.
The Tardeada will include:
-A 15-piece big band performance by The Bernie Fuentes Band, led by Bernie's son, Vern Brooks Jr. playing Mexican Swing Music;
-Juan Antonio Cuellar of the Arhoolie Foundation curating Mexican and Mexican American music played in California 1920-1960;
-A food truck;
-A continuous showing of our 4 mini-documentaries: Mexican Cannery Workers, Mexican Migrant Agricultural Workers, Mexican Music and Bands, and Mexican American Civil Rights: Focus on San Jose Community Service Organization (CSO)
-An introduction to our website and a commemoration of those people we have interviewed over the 17 years of collecting history for this project.
Do both the ride and the tardeada, or just do one – your choice! We can't wait to launch the website, a project 17 years in the making!
https://www.facebook.com/events/565935262273738/
Everyone is welcome to attend this event, but please, read and follow our "How We Ride" guidelines to keep everyone safe and to keep San Jose Bike Party rolling! We share the road with other vehicles and we frequently ride in the dark.
Having a great time and want to help? We're always looking for volunteers to help guide riders at corners or to handle other tasks. Talk to any of the "BIRDs" (look for the "bird" logo!) for details. Or you head over to our Donation Page.
Some helpful hints:
Follow the Law
Be Predictable
Be Conspicuous
Think Ahead
Ride Ready