San Jose Bike Party celebrates Japantown's 125th anniversary as well as the summer festival of Obon with San Jose Taiko.
Taiko, DJ's, Fire Poi, Bike Sprint Races, and more
The month's Obon Ride will start  from Downtown San Jose and pass through Japantown before regrouping at the Berryessa Flea Market (Maybury Rd. entrance) for an amazing evening of Taiko performances and two popular San Jose DJs. DJ Live and DJ Sharkie will be on hand  to provide dance beats at our big regroup at the Berryessa Flea Market. Guerillaz in Da Mixx will also be coordinating six synchronized music bikes along the ride with a bike party playlist.
The ride returns to downtown finishing at Plaza de Cesar Chavez.
All your favorite food trucks, beats, and of course bikes. Due to the longer regroup we will also have two porta potties on site. See map for location.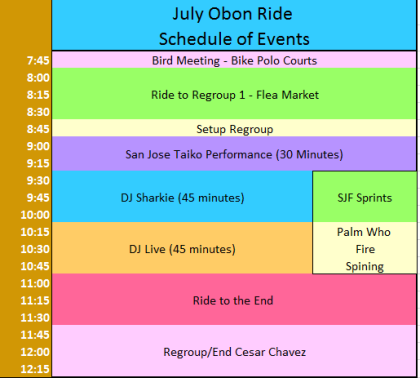 Feeder Rides to The Obon Ride.
Since parking is always a premium at the start why not do a short pre-ride with a close group of friends.

 1171 N Capitol Ave San Jose, CA 95132. Leaving 6:30 pm

Leaves from San Jose Bicycles
560 Tully Rd., San Jose, CA
Leaves from the Off Ramp Bicycle Shop. Meet up around the west side of the building.
And here are some turn by turn directions you can pull up on your phone. Here is a link to the original.