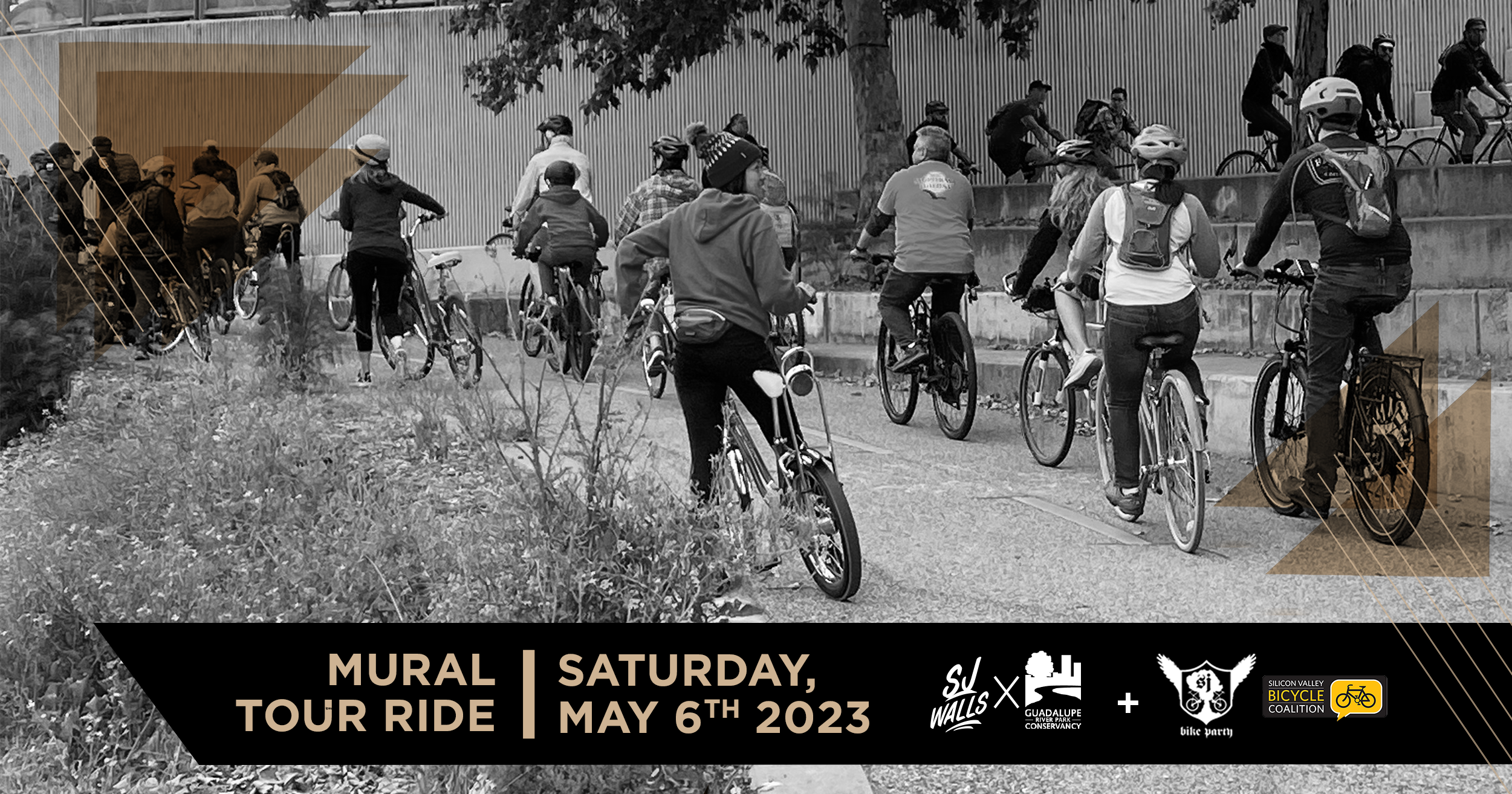 When: May 06 2023 10:00AM – 1:00PM
Who: San Jose Bike Party
Route: https://ridewithgps.com/routes/42765446
Mural Tour Ride hosted by @sanjosebikeparty and @bikesiliconvalley in partnership with @sanjosewalls and the @guadaluperiverparkconservancy
The Mural Tour Ride will provide an open space gallery where we share behind the scenes stories of public art collections, artists conversations and experiences!
Learn fun facts of our city's rich culture and history as this tour has been led by Juan Carlos Araujo; a working artist born and raised in San Jose managing multiple roles in that interweave the artistic culture in our city (Lead Director of SJ Walls, Owner of @empire7studios , Co-founder of the @jtownartwalk).
Additionally, Artist In Resident artist Ruben Escalante will be joining us to share a little bit about his inspiration as he will be painting May 6-13 at three sites along the Guadalupe River trail.
We will start gathering around 10am and start rolling around 10:30am. The route will be about 3 miles long, and will end at Empire Seven Studios around noon.
Route map: https://ridewithgps.com/routes/42765446
Supported by:
@worldwidewalls @empire7studios
Sponsored by:
@Microsoft @sjculture @cityofsanjose @kellymoorepaint @montanacans_usa @monsterenergy
In partnership with:
@guadaluperiverparkconservancy @sjparksandrec @scvwd @sj_conservationcorps
#Microsoft #CommunityDevelopment #MicrosoftDCCD #ThrivingCommunities #SJWalls23 #SJWalls #SanJoseWalls #WorldWideWalls #GRPC #SanJose #DTSJ #GuadalupeRiverArtWalk #BayAreaArtWalk #SanJoseLove #VisitSanJose #MicrosoftDCCommunity #lovetheGRP #SJBikeParty #SVBikeCoalition #MuralTourRide
https://www.facebook.com/events/749722299861331/
Turn By Turn
| | |
| --- | --- |
| Turn right toward Guadalupe River Trail W | 0.1 |
| Turn right to stay on Guadalupe River Trail W | 0.2 |
| Make a U-turn | 0.5 |
| Turn left onto Guadalupe River Trail | 0.6 |
| Turn left to exit trail right after crossing under W San Carlos St. | 0.6 |
| Turn right onto Riverpark Towers plaza | 0.7 |
| Left on to Park Ave sidewalk | 0.8 |
| Cross Park Ave at crosswalk | 0.8 |
| Right into Park Ave sidewalk | 0.8 |
| Left onto Guadalupe River Trail | 0.9 |
| Slight left to stay on Guadalupe River Trail | 1.2 |
| Turn right onto W St John St | 1.3 |
| Turn left onto Santa Teresa St/​W St John St | 1.5 |
| Turn left onto N 7th St | 2.2 |