Nick G.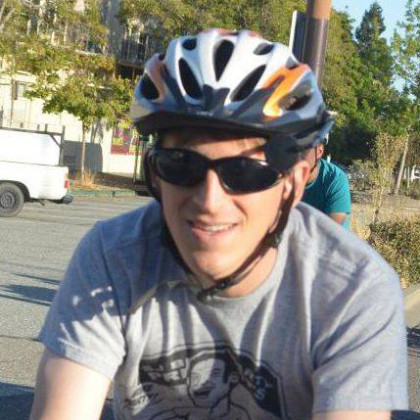 I feel like the origin stories of Bike Party have been told over and over again, but I suppose 100 rides in, there's a tendency to feel like an institution, like a "done deal," that could lead us to forget just how small and how personally this beautiful creature formed.
In 2004 and again in 2005 or 2006, I and some cheerful riders around this fine town tried to replicate other cities' Critical Mass with only sporadic success. (What's not to love about a costumed Halloween Get-Out-The-Vote ride?) We had 15 riders cruising through the mostly-deserted downtown at night, and it was fun. Still, it was mostly my planning and my vision – which just wasn't that great. I wanted community, but I hoped it would come to me. I hadn't started to build it yet, and it dripped away from me.
Bring 2007 and some new friends, a delightful community of roommates in the sterility of suburbia seeking new successes and excitement, and Bike Party was reborn in a new experiment – the Bike Party you know and love. This time, we set out to build the community: a labor of love among friends who found joy in our city and in each other's work, with no special skills and no outside support, but a people's movement bubbling through and through.
Still, the small ride took a while to learn its momentum, growing from 25 to 40 to 60 to 80 to 100-some riders in the first months, meeting under Campbell's water tower. Social media proved superior to email listservs and "party hour" proved more creative and more enticing than "happy hour." MySpace and especially South First Friday were the fertile recruiting grounds in 2007, bringing together creative and energetic minds ready to build a new idea out of blinking lights and endless streets. People came curious, and we set them to task: bring a friend, spread the word, hold an intersection, fix a flat, make a flyer, make a friend.
Read More...
The friends turned out. It turned out that we weren't the only ones bored with modern life trapped behind screens and inside boxes. It turned out that our first hesitant friends weren't the only ones enticed by something fun to do on a Friday night that was more exciting and more real than a movie or a bar. It turned out that San José wasn't, as so many had claimed, dead inside. It turned out that you really can build community through bicycling. We are that community, and we're celebrating now – even as we're not yet done building.
We've tasted community and we already want more fun. Thankfully, bicycling isn't the only way to build community. Thankfully, community goes deeper than blinky lights, bike lanes, street festivals, and dance parties. Community is just a fancy word for what we all know and continue to share: that there's a joy to life shared together, a joy to a city at night, a joy to shouting in a crowd that makes the hard work of building worthwhile.
In Bike Party, we're half political party and half street party, embracing and evangelizing the joy of community. We're not done building, and we're never done enjoying the ride. To steal Watani's line, put the fun between your legs!
Amber L.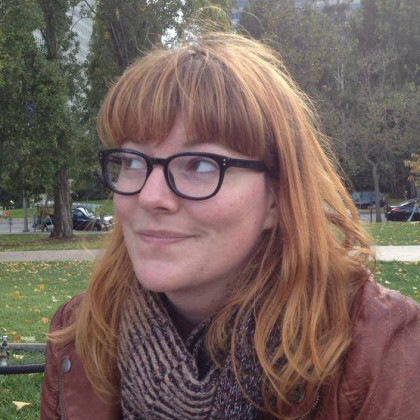 I remember being rather sad after my move to San Jose from San Diego. It felt hard to make friends and I had a hard time finding my community. But my roommates knew that I had been part of a San Diego bicycle group from a local news article and I said "we could start one here!" And of course, after a few months, they kept reminding me "when are we gonna start that bike ride?"
I remember telling everyone I met that I was going to start a group bike ride and they should come. I remember asking my best friend to make us a logo and a flyer. I remember going to bars and coffee shops dropping off flyers and spending hours at work trying to make new ones.
As a new person to the city, I was horrible with routes but I remember watching Nick looking at the map and chatting up the most fun place with some of his friends. I remember Lauryn McCarthy bringing the themes ideas, rocking the epic costumes, and essentially brought the cool to the event. I remember Jo Glasowiski getting a ticket on our first ride.
I remember planning games as a component to the ride: dodgeball, bicycle Olympics, and going to EVERY SINGLE San Jose park looking for water access to set up a slip'n'slide post route and then the cops came before we could set it up.
Read More...
I remember holding planning meetings and no one showed up but our household. I remember Benjamin Henderson, Sarah Stillman and Danny who showed up because they had a great time and wanted to do whatever it took to contribute. They coined the term BIRDS. They helped us to problem solve. They are amazing people.
I remember Nick making us to do talking points before we talked to the news, and they used our talking points again and again. We gave ourselves good press.
I remember when everyone showed up and starting telling us how to organize and getting mad at us for not doing it their way. I remember being emotionally exhausted because I spent hours upon hours planning and then people demanded more from us in such an volatile way.
I remember when Greg asked us "when are you going to stop at red lights." And we collectively decided to do so because we got so large.
I remember refusing to tell anyone we started San Jose Bike Party because we were afraid of getting arrested. Or sued. I remember feeling shy and uncomfortable when everyone thanked me. It felt larger than me. It was all of us.
I remember being heart broken and angry when riders destroyed the signage of a parking garage we rode through. We felt responsible for the bad acts of a few. We always felt responsible when those things happened.
I remember when we met a mom picking up trash after our start- she went out of her way to help completely on her own volition.
I remember these were the best nights of my life and in the planning process I made the best friends. I moved to San Francisco and still planned and still rode because it became my community.
And I remember when my mom died and I couldn't take the emotional exhaustion of planning anymore. I just wanted to change my life. So I stopped coming.
I am proud we started a movement. I am proud we were inclusive and transparent. I am most proud that we set it up so it could keep going without us.
Katie H.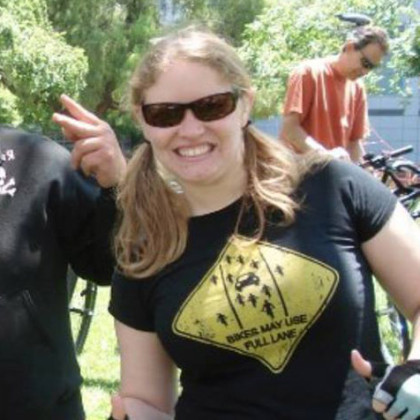 For my Bike Party story I have to go back to the beginning. In 2007 my friend Nick said he was planning a fun group bike ride and that I should come. I was already mildly interested in biking and used a bike to get around town, so I went and had a great time with the 20 or so people who were there that night. I had no idea that that ride would become what we now know of today as San Jose Bike Party.
In the early days we started the ride each month at the Campbell Water Tower. During that first year I remember an announcement that there were a record 200 people there and thought to myself "wow this is really catching on." After that ride, Nick predicted that within a year we would grow to over 1,000 riders. I didn't believe him. I was wrong.
We outgrew the tiny water tower parking lot and started meeting at Dick's Center on Bascom Avenue. We eventually also outgrew Dick's and started mixing up the start location and the ride for the most part resembled what it is today. The first time riding in what seemed like an endless sea of bikes was exhilarating. It makes me happy to know that every month there are new riders that get to experience that special awe for the first time.
Read More...
Early on I became involved in San Jose Bike Party beyond being a rider and participant. Over the years I've had the privilege of volunteering as a BIRD and organizer. In the summer of 2010 I had the opportunity to organize the first SJBP Ladies Ride, which is now a yearly tradition. We also now have an annual 100-mile century ride every spring. We've had live performances at our ride regroups by musicians, mountain bike demo riders, fire spinners, and even a clown. We've routed our ride by local ghost bikes to honor fallen riders in our community. We have hosted special rides to welcome visiting governors from our sister city of Dublin, Ireland. There are now Bike Parties in cities all over the world, started by people who are inspired by our original San Jose model. These are things I never would have dreamed possible in those early days at the Campbell Water Tower. A small ride amongst friends has become a San Jose cultural institution, and I have been lucky enough to bear witness to this process.
On a personal level, San Jose Bike Party has had a major impact on my adult life. I always know that Bike Party will be at 8:00 on the 3rd Friday of the month, no matter what, rain or shine. When times have been tough Bike Party has always been there as a constant in my life. I've met new friends from all walks of life by riding on Bike Party test rides and being an active volunteer. I've become a more confident on my bike and a far more athletic rider than I ever was before. Bike Party has pushed me to become a more active member of my local community and to be a leader that I didn't know I could be. I'm very proud of the small role that I was able to have in the development of Bike Party over the years, but I'm also very grateful for what Bike Party has done for me.
I'll close with one more anecdote. When we rolled through the streets of San Jose we used to get people yelling questions at us. "What is this? Where are you going? What are you riding for?" I rarely hear those questions anymore. Now when we roll through town all I hear is a familiar shout of "Bike Party!" Incredible. What new adventures will the next 100 rides bring? I can't wait to find out.
Daniel G.
Many years ago, I think it was around the early 2000s, I met some San Jose local cyclists who shared my interest of forming a Critical Mass-style bike ride in the South Bay. I remember one in particular was Greg McPheeters, a dude who was briefly the prez of the Silicon Valley Bicycle Coalition (at the time, voluntary before they paid a director). Another booster was a young college student named Nick, who had this long last name that I couldn't remember.
We met up near Lincoln High School one afternoon; and started riding around there were about a dozen of us; some on beach cruisers, a couple mountain bikes, and a few roadies.
At the time, I was used to riding with jock-type road cyclists who didn't ride much after dark, did not drink or smoke, and always showed up to ride starts in cars with their bikes car-topped.
Now besides the fabled San Francisco CM rides of the 1990s, Id also been to a couple critical mass rides up in Berkeley, along with my riding buddy Scary Larry Kawalec, my brother-in-law Tim; and a creative, activist dude that Larry knew from SFCM named Jason Meggs. One ride was themed as a memorial event for a fallen cyclist. Someone showed up towing one of those fat-tired garden wagons that carried a car stereo with a pair of massive home speakers. Instead of taillights, this music wagon was festooned with four tiki torches, one at each of its corners… making it visible for miles.
Read More...
I'd previously told Nick about the use of these torches as a means of indicating the ride leader; as it offered unparalleled 360-degree visibility from atop a 6-foot pole. It was winter, and these things weren't in stock at OSH… But Nick came through with one, strapped to the rear triangle of his frame.
The ride headed northward on the Guadalupe River Trail; at the time, this bike path was still paved with gravel and ended at Airport Parkway. After a short regroup by the side of the road, by the locked gate that prevented us from using the dirt utility road by the riverside, we headed eastward, then south on 4th street.
After a trip down Jackson St. through Japantown, we rode the loop around and through Cesar Chavez Plaza, and ended up at St. James Park. We lost about half of the riders mostly the roadies. It was dark by now, they aren't into partying, and they did not enjoy that we were performing the common, yet controversial critical-mass ritual of corking intersections.
Somewhere along the route I think it was near the Quetzalcoatl statue the SJPD stopped Nick and made him extinguish his tiki torch. No open flames allowed on the street.
The following week was where the e-mail USENET group offered a version of Ride Reflections, where everyone had an opinion
This was where Don Burnett, a senior board member of SVBC and former mayor of Cupertino, made his not-so-famous observation that critical-mass style rides provide more heat than light, in reference to bicycle infrastructure advocacy.
Soon thereafter, Greg relocated to SLO to attend classes at Cal Poly. Nick vowed he would keep this ride going, in spite of everything. I had to bail on this scene I had childcare ties. I remember coincidentally happening upon the start once, at McHenry Park behind the Adobe building; it was the ride before Halloween, and seeing about 25 riders; many in costume.
A couple years went by, and my family and I relocated in 2006 out of a little house behind Casa Vickys, to our present digs on Hedding Street; and there… a much larger, bona-fide Bike Party went cruising past one warm Friday evening. As we watched, the tinkley-crash sound of a shattering glass beer bottle hitting the pavement added to the festive atmosphere. Wait what? Shattered glass in street? Bicycle tires? Oops! I ran to my garage and broke out my trusty broom and dust-bucket-on-a-stick and as I faced the oncoming waves of slow-pedaling traffic to sweep up the glass pile; individual riders alternately, profusely thanked me; or yelled slurred orders at me to get my ass out of the street.
Participating in Bike-To-Work-Day in May of 2007; I met an enlightened, slow-talking politician at the after-soiree. Said he represented the Green party, was running for city council in Mountain View, and asked if I would listen to his one-minute speech concerning fossil fuels and climate change. After that, he gave me one of his Mend Your Fuelish Ways bumper stickers for donating a dollar to his campaign.
Then in December of 2008, My elder daughter Robin was invited to play her trombone at an annual holiday brass-band performance jam with her aunt and uncle at the Willow Glen home of Bill Nicholosi, a retired music teacher. Instead of driving there to spectate, my wife Bonnie insisted we ride our bicycles. She told me there was some bike ride headed there that had been organized by one of her co-worker school teachers. It was cold and dark out; but somewhat reluctantly, I agreed. She said this ride was starting at the San Jose Repertory Theater, downtown.
MIND=BLOWN!
I didn't make the connection until months later but Bonnie's co-worker was the same dude Id known from years earlier… Nick!
Nick was really busy though, barking instructions to the participants with
a bullhorn he couldn't talk to us, so we just went along with the flow.
By the time we got to Willow Glen, we were a couple hundred strong and everywhere there was song, and celebration. We got to hear our family play in the concert and then we continued riding with the rest of the bike-borne group but, instead of going back downtown, we ended up taking over a parking lot somewhere off of Curtner (I think) and pounding burritos from a handy roach coach, before we broke off from the group and rode back to our house.
I went to the next SJBP after that it was here that I encountered that certain Green Party candidate Id met at the after-BTWD gathering. He remembered me; but he, too, was busy schmoozing other friends.
The following spring of 2010, I told my longtime best-buddy Howard about this crazy Bike-Woodstock; and soon he and I were heading to a Pirate Ride! There was one small glitch, though because there had been some bad behavior on the part of some previous participants; the organizers had decreed that you had to personally know one of the Birds in order to find out where the start was. No problem! Call Nick!
It was on this ride that I chance encountered another one of my longtime riding buddies; a co-worker from Sony; a brilliant engineer I had corroborated with on system integration, bicycle electrification projects and high-tech nomadics Steve Sargent. It was Steve who convinced me to join the flock of birds he invited me on a test ride where I met Billy, Tanner, Katie, Yoshi, John Barton, Brian McNeil, and a host of other
fascinating characters.
The rest is history. That summer was the ride I dropped something valuable at a regroup, returned the following day to retrieve it, and was appalled at all the trash that was scattered in our wake so Howard and I began bringing garbage bags and picking up and someone on the Hub started calling us The Ravens.
Now I've met a lot of really excellent, interesting persons through this activity. I've been able to go on other rides with them, all over the greater San Francisco Bay Area. I dream of reconnecting with similar riders in the city of my birth, Los Angeles.
So what will be the future of San Jose Bike Party? Where are we riding from here?
Lloyd C.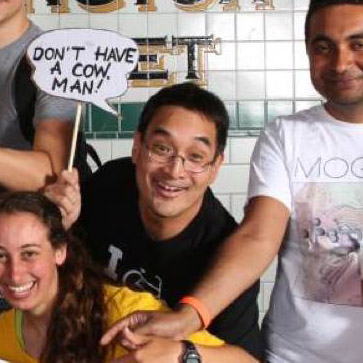 I discovered San Jose Bike Party in the late summer of 2009. A friend had just discovered SJBP during the previous month and gushed about how much fun it was, so I knew I had to try it. I dusted off my old ten speed and drove it to the start point for my first SJBP experience. Although never a serious cyclist, I had always loved riding my bicycle as a kid and used it as my primary form of transportation while in college. But in the years since then, I hardly rode it at all.
My friend who introduced me to SJBP wasn't able to attend the next month, but I wanted to check it out anyways, so I went on my own. It didn't take long at all to start meeting people on the ride, because so many people were friendly and welcoming. I started going on test rides and rapidly made a lot of new friends. There's something magical about riding in a Bike Party that draws people together. Even after all these years of riding, I can't really explain how it works If you've ridden with SJBP, you probably know what I'm talking about. If not, then you have to experience it to really understand.
Since my first SJBP ride, I've done many test rides and have missed only a few of the main events. Completing these rides inspired me to start commuting to work via bicycle. I now regularly go a distance I used to think was too far to ride. I've also been inspired to use my bicycle for everyday shopping, entertainment, and social trips. As a result, I'm filling up the gas tank about half as often as before. I also stopped driving to SJBP events, preferring to ride from home so I could enjoy the day completely car free, and I've also discovered the feasibility of taking my bike on Caltrain, BART, and VTA, which greatly enhances my range.
Read More...
SJBP's Bike the Limits ride inspired me to do my first ever century, which I completed on the 2011 Bike The Limits ride. Since then I've completed at least one century ride every year and do several metric centuries. I figure I ride between 300-500 miles a month now, compared to around ten miles a year before I discovered SJBP.
SJBP has brought me in better touch with my community. I've visited parts of the city that I'd never seen before and discovered interesting shops and restaurants, particularly in the downtown area. My favorite part about San Jose Bike Party is amazing diversity of people that I get to meet. I've become friends with so many people that I don't think I would have even had a chance to talk to otherwise.
In more recent years, I've had the opportunity to travel to other cities to ride their Bike Parties and to meet riders in their respective communities. Every community brings its own local influence to its flavor of Bike Party, but the welcoming spirit and celebratory atmosphere persists everywhere. I never imagined that Bike Party would catch on in so many places around the world, but I can understand why it has. The spirit of Bike Party is universal, and the magic that occurs when people get together to ride can happen anywhere.
San Jose Bike Party is more than just a great night out. SJBP has tremendous influence in turning couch potatoes into bicycle riders. But I think more importantly, it succeeds in its motto of "Building Community Through Cycling." Bringing such a diverse group of riders together in such a welcoming environment promotes understanding of people and cultures, the importance of which cannot be overstated.
I'm excited to see what the future holds as more and more people discover the wonders of San Jose Bike Party and other Bike Party rides around the world.
Bill "Townie" G.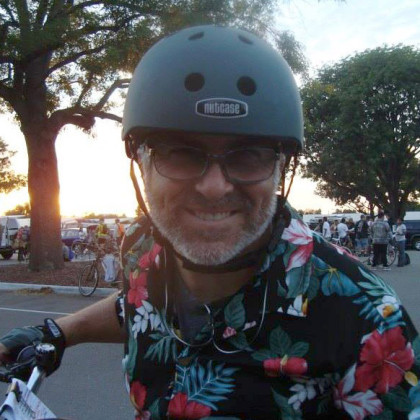 For four decades, cycling has been one of my passions: In the 70's there was my Schwinn Heavy Duty for the paper route; there was the Centurion Super LeMans purchased to minimize the expense of owning an auto. Then, early in the 80's, mountain bikes were the rage. There was a crew of us who rode with fat, knobby tires. We were local MTB enthusiasts haunting the Santa Cruz mountains and the hills of the Bay Area. When our babies came there was new era of cycling that allowed our families to experience bicycle joy. Then, the kids grew up. I became this guy: "Bike, and party of one" on a hybrid Townie. I knew nothing of San Jose Bike Party but had dabbled in the SF Critical Mass during the early/mid 2000s. One day, my son's girlfriend saw me roll up, all tie dyed and sweaty, and informed me of this phenomenon she saw from somewhere near San Jose State. This was in September of 2009. She called it a Bike Party. (Bike+Party? Hey Now!) I had to know more. Sure enough, there was a web presence back then and my first SJBP was the October 2009 ride starting on Capitol Expressway from the lot of a closed auto dealer.
I befriended some cyclists and began to expand my circle of acquaintances, making many new friends and finding acceptance of my primitive mount. I began to upgrade the "2005 Townie 21-700c". Why? Because BP was a monthly cycling event worthy of my passion! San Jose Bike Party was building community in spite of several risk factors and with an element of civil defiance. Our earliest leaders produced the "way we ride" card to distribute in an effort to promote sanity via common sense. Sure, there were some very active BIRDs but not at all the number of committed volunteers necessary to support the exponential explosion of participants San Jose Bike Party was attracting. Now, we really need more new BIRDs to model respect for community; to know and demonstrate the "way we ride", and coach peers from within the peloton to defend what has been forged by the commitment and dedication of a few.
Bike Parties have been inspired in the East Bay, San Francisco and beyond. Now, as we are looking back at 99 San Jose Bike Parties and planning #100, I can't help but express gratitude to those who've committed to sustaining the movement. You know who you are.
Tian H.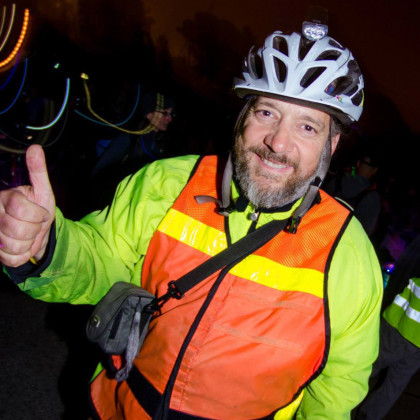 For me SJBP was an answered prayer. I was getting burned out on being a Green Party activist, and I was way too anti two party system to join either of those. Bike Party came along and said "Let's just explain to people how much fun it is to ride bikes and we'll be building the movement and enjoying it." I went to my first ride and found out it's fun to yell with bike party. Yes! They had themes, and I started honoring those with pictures. SJBP has made me a much better photographer. You can see it in the way my picture sets have evolved since we started. Go here for Tian's pictures:Â http://tian.greens.org/SanJose/BikeParty/index.html
Jackie M.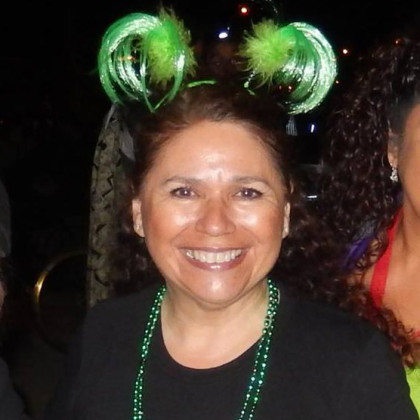 It was my son Tanner's birthday in 2009 and he decided to celebrate with friends and family at San Jose Bike Party as part of his weeklong Tannerpalooza celebration. I had lots of questions, but he directed me to the website and when I looked it up the theme was the "No Pants Ride". What was my son getting me into? Well my life would never be the same. During the first few rides I needed to pedal faster than I desired to keep up with my son as I didn't know the routes. He always thought that was funny. In the following few months I began attending test rides and made lots of new friends (who did wear pants). For a while Tanner took a leadership role and I was very proud of him. Most knew me as Tanner's mom for the first few years until I attended rides, tests rides and volunteered more often than he did.
Over the past 6 ½ years I have attended all but a handful of the monthly rides and many of the test rides. I have participated in all of our annual Bike the Limits rides. The first year I completed my first metric century (65 miles) and have completed four century rides. I have owned a bike most of my life, but until 2009 my bike was mostly unridden. Most rides were predominantly male, but that didn't matter. Within the first year I met more females, mostly through the Ladies Ride. Through SJBP I met a group of females currently referred to as the Biker Chicks (which is a whole other spinoff story). We all came together through the love of San Jose Bike Party and the love of biking that SJBP awakened in each of us. I have biked to work, to do errands and have lots of adventure miles. Last year I biked over 3000 miles. It is also a family thing, my 4 year old granddaughter has over 400 miles as a passenger. Her first ride was the Ladies Ride in 2012 when she was a year old. To this day I cherish all of the friendships I have made through SJBP.
Mark H.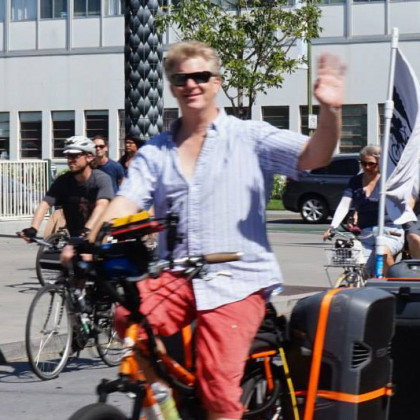 I was first introduced to Bike Party in 2012 by a good friend. I was hooked after my first SJBP test ride when I one rider who had strapped some car speakers onto their bikes. (Billy C I believe) I had not been on a bicycle in quite some time, and did not have a working one. Within a few months, I was hooked. I started attending Bike Party's around the area regularly. SJBP, EBBP, SFBB, PBP. During this period of time, I was going through a painful divorce and Bike Party became my outlet, my way to stay sane. Instead of getting back into some kind of bar or club scene after my divorce, now I ride bike parties. Not only am I in much better shape than your average bar-fly, I also have hundreds of new friends I have made from all walks of life.
SJBP and Bike Party in general is such a open-armed community. We have folks from all walks of life and riding coming together to ride and have fun. This openness pulled me in closer and made me want to get involved with volunteering and organizing. When I first started pulling a music bike, we were all competing with each other and playing on top of one another all the time. I started the Music Bikes group in November of '12 as a place where folks could share information freely on how to build music bikes, as well a place where we could all get to know each other and come together instead of competing with one another. In 2013, together with 3 other members of the community, we started Guerillaz in Da Mixx. Originally GiDM was meant to be a new format of ride that was more "party" than "bike", having a shorter route and one long regroup. GiDM evolved to become a Music Bike Club, and has been sponsoring the entertainment at SJBP Regroups since 2013, as well as throwing our own events GiDM & Flashdance. We also provide the synchronized music for SJBP family rides such as Groovin' on a Sunday, and San Jose Kidz Bike Party.
SJBP is responsible for not only getting me back on a bike, but for making cycling a part of my family life. My kids have all ridden with BIke Party. I kicked off the SJ Kidz Bike party to have something for my 2 youngest to do with me, and then created Groovin' on a Sunday afternoon after they outgrew SJKBP to be a family friendly rider a step above SJKBP in difficulty.
Read More...
I have been an organizer of SJBP now since late '13. We have a great group of volunteers who contribute every month to make it all come together. We have made some great accomplishments in the last few years and I am looking forward for now we evolve further. We are in process to get our non-profit status, and hope to get this completed this year. This last year we started providing TravelJohn disposable urination bags & kicked off our #LightMeUp program that was started after one too many deaths of riders in San Jose. WIthout a doubt, San Jose Bike Party has been a huge benefit in my life. Thank you SJBP and SJBP founders for creating this amazing community!
Keren B.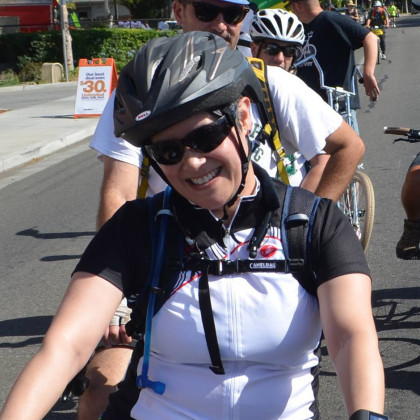 My boys and I ride our bikes intermittently together. After a few years of short rides, we were ready for longer, more interesting rides. I tried out other bike meetup groups, but they didn't have the inclusive attitude SJBP has. Some required a certain bike, some required a certain level of biking skill. SJBP works for me and my sons because it caters to cyclists of all ages and skills and bike ownership.
There is a sense of community in the way the volunteers look out for the safety of the participants (as much as it is possible) by insisting on safe cycling practices, by organizing rides of various skill levels during various times and days to accommodate as many folks as possible, by looking out for ride stragglers, by posting folks at corners during rides to direct the ride flow, and by volunteering for various community bike events. This is the type of cycling organization I want to be a part of and support because it's good for the community, not just myself and my family. I hope it continues for another successful 100 rides and more.
Jason L.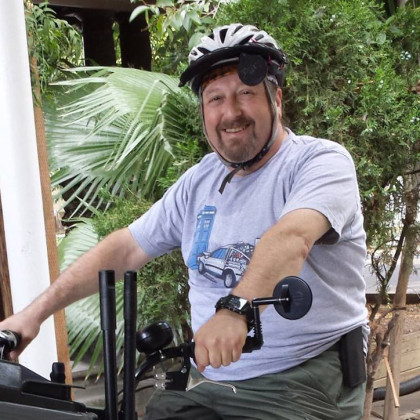 I hadn't ridden a bike in about 35 years, but when I saw how fun and INCLUSIVE SJ bike party was when they rolled through my neighborhood, I wanted to be a part of it. I bought a $100 bike at K-mart and a month later, I rode my first bike party – 20 miles, more than I had ever ridden.
Now it's 5 years later, I've done maybe a hundred bike party rides and test rides. I ride to work a couple times a week and I rode one 60K ride and I might do a 100K ride this year. I'm on my third bike, since the K-mart bike.
SJBP is the party where anyone who can ride a bike fits in, regardless of age, race, income, or background.
Anthony K.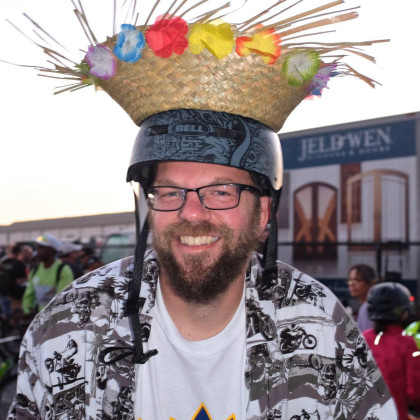 I heard about bike party from a neighbor and then later from a friend who couldn't stop raving about it during lunch one day and about how it was beyond awesome. When attending my first bike party, I had no idea what to expect or how many people to expect. I didn't think I could ride 18 miles so my brother and I went straight to regroup #1. We saw a group of 6 or 7 cyclists and thought, "Oooh, maybe they're Bike Party." They weren't, but they joined us and we went in search of the real party. This regroup was at City College and when we found the regroup my jaw hit the floor. I felt like a kid seeing Disneyland for the first time. There were easily 1,000 people and there were bikes of every type and so much to see. I couldn't believe it. I thought my beach cruiser was "customized" but it had nothing on the rides I saw there. And the lights! And the music! Really, it was like seeing Disneyland for the first time but even better cuz this was all free!
Since that first ride, I've met some of the most friendly, positive and helpful people through bike party. Ordinary folks planning awesome events that help the community; people who see a need and fill it rather than suggesting that "someone should do something about that". I've met people who build some incredible bikes and these inspire me to modify my bikes further. Before Bike Party, the last time I rode more than 10 miles was when I was a teenager(20 years ago). Thanks to Bike Party I'm riding more than ever. My bikes are no longer collector's items looking nice and collecting dust; they actually get ridden a lot now. But really, it's about the community. When drivers see a car stuck on the road they move over and drive by. Bike Partiers pull over, offer help, free tubes and whatever else is needed. They do this not just for friends, but for strangers who will soon become friends.
Read More...
I honestly don't know of any other group that is so willing to help every member and encourages everyone to come out and participate regardless of speed or level of biking enthusiasm. I've met people from 17 years old to 70+ years old. Again, I don't know of any group that has as much diversity as SJBP in terms of age, race, religion, neighborhood, political affiliation, socio-economic backgrounds…. They all come together and everyone respects everyone and appreciates what each has to offer. Amazing. Simply amazing. Oh, and the fact that it happens every month for free and is 100% volunteer run is almost unbelievable.
Sheldon H.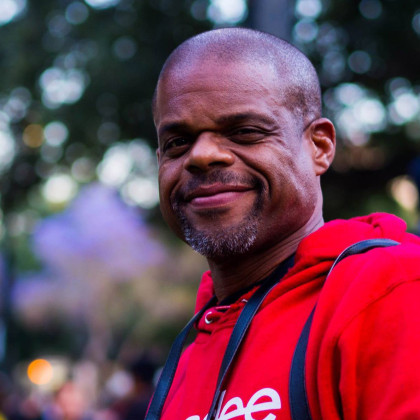 This upcoming May will be my 6th year San Jose Bike Party Anniversary. Veteran rider Ian Emmons introduced me to Bike Party in early 2010. I had taken up regular weekend riding in the fall of 2008 as part of my workout regime after getting into shape after 30 years of being overweight. I still (and I'm sure Ian does too) remember my reaction after Ian told be about Bike Party – "You guys ride bikes AT NIGHT!?!!?"
Well after that May 2010 ride from Sunnyvale to Stanford and back, I saw why riding at night was of no concern! With thousands of riders stretching for miles along El Camino (w/police escort) – safety was not a concern. That night was an absolute BLAST, and will be one of my memories that I'll carry w/me for the rest of my life.
For the first two years, I mostly rode w/Ian on the pre-rides and main rides, but family commitments kept Ian away from regular attendance for a bit. This was a good thing for me, as it forced me to branch out and meet new people. To that end Bike Party has become my number one social activity, and has allowed me to meet fun, spontaneous, open minded, active, and amazing people that I count amongst my best friends, and with whom I share other activities outside of Bike Party.
Over the years, I've probably only missed two rides per year, and my family knows that that San Jose Bike Party is the top priority on the 3rd Friday over every month….so don't ask 😉 Bike Party has also fed my "gear acquisition syndrome" – 6 years ago, if you had told me that I'd own up to 7 bikes at one point, I would have called you crazy!
Read More...
Many of you know me as the "Bike Party Photo Guy", but Jarek, Lloyd, Enrique, and others also share that role. I love capturing your images as you're having a great time, and to be honest, I'm an attention whore, so I love all those Facebook "likes"!
Here's to San Jose Bike Party as we mark our 100th ride, and here's to 100s more to come!
Frederick B.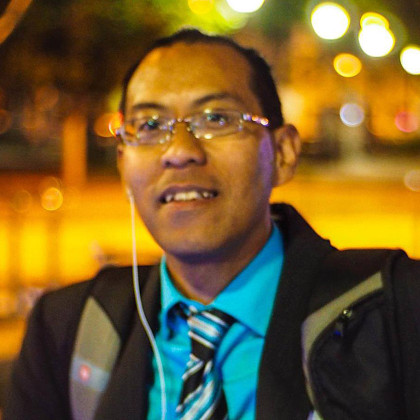 The truth about "word of mouth" speaks volumes about SJ Bike Party. My introduction is one of at least a "hundred" or more stories that begins with… "Ever hear of Bike Party?" By answering "No", that was just the beginning of trying something new. Let's just say if an acquaintance mentions positive things about a topic, you find yourself more likely to experience or relate to the topic. After 6 months of talking about, planning on a date to attend and purchasing a broken mountain bike for use, The Sharks Ride of April 2013 would be my first Bike Party.
From there, I was introduced to a SJBP test ride in August of 2013 located in Sunnyvale. First reason SJBP has improved my life, I have not owned a car since the age of 27. Getting to Sunnyvale from Morgan Hill for that, taught me more about time management and self reliable. Second reason… Being positive and supportive of your fellow riders, even in the face of negativity. That same test ride, I was bullied by one rider for showing up with a mountain bike (Most of the 20 miles…) Third reason… Change things for the better. I've volunteered for The California State Thespians over 18 years. Experience dealing with people, students of the theatre and hosting festivals yearly is no problem. So taking the negative test ride experience, I attended my first SJBP Volunteer meeting in October 2013 with the intention of changing things for the better.
Read More...
2014 was surely a bicyclist year for me personally. By April, the start of becoming homeless turned into reality (Most of you reading this are surprised now.). Unstable, scared and unsure about my future was stressing. Change, turned into adaptation in order to make a living in The Bay Area. So I became a bicycle commuter, from North San Jose to Morgan Hill for about 2 years. Some work days riding along close to 60 miles a day to take my mind of stressing and be free. There was always SJBP, I was being adventurous, wanted more miles. Volunteered the long hours of clean up on the Raven Trike, met the Lord Mayor of Dublin. Completed my first 100 miler in May for Bike The Limits on the same broken mountain bike. Then introduced to East Bay Bike Party in August of that year. Took Amtrak down to Los Angeles with my new Trek for a Thespian weekend meeting. The friendships made, only got better through bicycling.
2015 made me a better cyclist through friendships. Without that, who knows where I would be. Asked to take on the duties of SJBP Volunteer Coordinator in September was and is a great honor. Enjoying the ability to use my bicycle around the Bay Area is an achievement in itself. Currently residing in Fremont since October, life is getting better. Bicycle commuting from Fremont to Morgan Hill round trip is a challenge in itself. My knowledge and understanding of geography around The Bay Area, the mechanics of a bicycle and the lasting memories of moments with friends will last a life time. Just think about it the next time changing your lights, chain or a flat.
Lastly the moments with friends… All of you make me proud to have the honor of knowing you. Some joining in a cup of coffee, Holiday, Birthday, Super Bowl parties, long bike rides, car or van rides to and from East Bay Bike Party or Bike Party Sacramento. Raven duty! Train rides to and around San Francisco on New Year's Eve, Tour de Fat, beating the 2015 Caltrain to San Francisco just on my bike. Rides around the North Bay, Sharks games, music bike and Travel John set up, saving a friends life… (calm and collected), hitting the guardrail on Hyw 9, All You Can Eat Pancakes, sitting in on an Advisory Meeting and countless test rides… Thank you!
Suit up, ride safe and have nothing but love.
Jason L.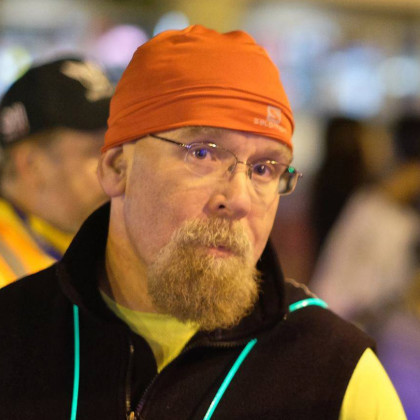 My first experience with the San Jose Bike Party actually had nothing to do with it – but let me take a step back a few years to elaborate.
In 2012 I was living in San Luis Obispo Ca. Having just gotten back from being on the Harlem Globetrotters Tour as a photographer, I decided to get a mountain bike – a second bike for me, bought at a local bike shop in SLO. The guy behind the counter asked me if I was buying the bike for SLOs Bike Night! He explained to me this concept of this group getting together and riding around town at night right after Farmers Market. Long story short, I went and thought it was absolutely hilariously fun. They had bikes pulling couches among other things and everyone was yelling "Bike Night"! From that moment forward, I was hooked – although I never had a chance to go again there.
A few months later, now having moved back to San Jose, I was trying to find a similar bike ride group. It didn't take me long to find the Bike Party website. I shot off an email asking about details. A rep named Billy Cool responded back and on April 19, 2013 I went on my very first San Jose Bike Party event, The Purple Ride. The ride was even better than I expected. I had so much fun, and it was so different from what I had experienced before from a bike ride.
Read More...
A few SJPB rides later, I actually started going on some of the Test Rides and had as much, if not more fun. The Test Rides are a bit more personal and you can meet some cool people and have better conversations that way. Two very memorable people I met early on were Billy Cool, Laura Dominguez and Moya Poparad. It's interesting looking back at old photos from the early SJBP rides, and seeing people I know now, and call friends – but at the time I did not know. It's a testament to the Bike Party Community in that It does not take long or much effort, to start making new friends.
Sometime in the middle of 2014 I got my SJBP wings and volunteered Birding. It's a way I felt I could give back to San Jose Bike Party for all the fun and friends I made over the years. For the October 2015 San Jose Bike Party event, I did my first volunteer as a Raven helping beautify the route and regroup stops we made.
I have to tell you that being involved with Bike Party for over 2 and a half years now, it has brought a lot of cool friends and experiences to my life. It is still very fun today just like it was in the beginning.
Laura S.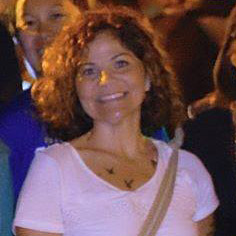 I actually started riding around my neighborhood, short little rides. But I wanted to find some like minded folk, so I Googled group rides and came across San Jose Bike Party. I decided to try out a test ride (Deity July 2010). I dragged my teen daughter on her beach cruiser and my son on his BMX. When we rolled up we were all a bit skeptical. But, I insisted we see it through. It was a fast paced ride, way more than I expected. But at the end I was so elated that I rode 15 miles.
I decided to go for the actual ride, and I brought two coworkers, we were all basically on shi**y bikes right out of the garage squeaking. No lights and completely unprepared. Talk about sensory overload! It was amazingly insane. Happening Couch, Bag Pipe Piper, kids like 5yrs popping wheelies, so diverse, music, lights and beaming faces everywhere. This was the essence of bike party. We soon fell behind and a one of our friends ran out of steam, she took a cab home. Down to two, and lost… my friend and I were about to head home, when we saw a small group of stragglers. We decided to join them and this cluster continued to grow and evolve. Some random kid on his scooter started following us through the Saratoga mountains, the moon shining down with a beautiful clear sky. I'll remember this night forever. We eventually found the heart at the second regroup and we were stoked!
Can you say hooked, after that my daughter and I rode like crazy, test rides, all the off shoots. We were peddling like crazy to keep up, all while getting in shape and bonding. That is one of the most important things. Bike Party brought me and my daughter closer.
Five ½ years in, countless rides, crazy fun and the most solid friendships. I <3 Bike Party, this is an amazing ride!!!!
Ryan S.

Bike Party's the reason why I went to grad school and why I work in transportation planning. Maybe not the whole reason. But a big chunk of it.
2008 or so, I had no direction. Things were good but nothing was moving forward, everything just sitting stale. And I needed change but I didn't no what or where or when. Some new creative project. A new career. Whatever. And eventually I found that direction, simply by following the blinking red lights in front of me, the two hundred or so bikes I stumbled on so many rides ago. And all of the sudden things were moving fast.
Watching everything change month by month, a hundred riders becomes a thousand becomes. Watching the city grow and change at the same time, seeing Bike Party's impact on the people riding, the people we ride past, the massive sprawl of the this city being taken over by a community of people simply looking for a way to add more meaning to their lives. And I wanted more.
Bike Party's impact grew on more until it consumed me entirely. It was more than an obsession. I thought about it to the point where bicycles were falling out of my ears. And riding wasn't enough. I started volunteering, running some of the earliest Test Rides, planning the very first Bike the Limits, shouting all kinds of things from a bullhorn. Pure madness. But it still wasn't enough.
On a very personal level, I needed to turn Bike Party into a vehicle to let me do more. Already working in education and community service, I thought that there was certainly a way to turn Bike Party into my job, in a way that would let me continue to serve my community, just differently.
Read More...
And then it came to me. 2011, feet up on my desk on a stressful afternoon at work, all I could think was bikesbikesbikes, and then it hit me. Grad school. Urban planning. Transportation. Be a part of what this city needs. A giant uphill bike ride to a more sustainable community designed for people.
So I turned Bike Party into more than just an obsession. Since joining Bike Party, I've not only made a ton of friends and had some very special times, but now I'm doing my best to take Bike Party's mission seriously as a transportation planner at City Hall. I feel fortunate that I get to work with neighborhoods citywide to improve biking conditions, that I'm leading the expansion of Bay Area Bike Share in San Jose, and that I got to be a part of the team that planned the very first Viva CalleSJ.
I have so much thanks to give to San Jose Bike Party and all the wonderful people involved. The city hasn't been the same since and neither have I.
Jonathan K.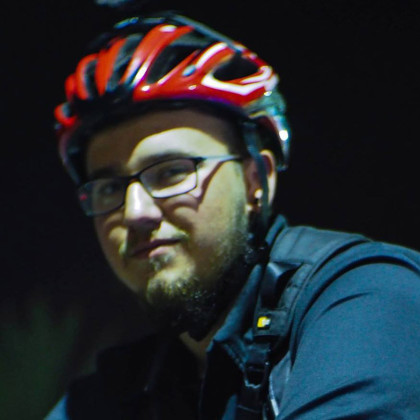 I've always been into bikes, and I remember wanting to go to bike party as a kid when it first started but my mom didn't let me. I forgot about it for years, just riding for transportation mainly. Then I started working at a bike shop in 2013, and a couple of the guys were into bike party so I wanted to go again. One Friday I was riding home from work, and I rode through downtown and it turned out bike party started at St James park that night so I decided to go. That was my first bike party, Rave Ride, July 2013. I didn't go again until a couple months later, and then did my first test ride a couple months after that. I was hooked. Started going to every main ride, only missing 1 or 2 that year, but still didn't know many people. I bought a road bike in March 2014, and in December of 2014, I started going to most of the test rides, and that's when I really started meeting folks. I also started riding a lot more often just for fun, and getting friends into biking too.
Before SJBP, video games were my main hobby. I would play for hours on end and wouldn't do a whole lot outside except for the occasional photo walk. Its helped me be much more active than before. There are so many great friends I would have never met if it wasn't for Bike Party, and for that I am extremely grateful. And many things that I most likely never would have done if not for Bike Party. Going on my first century ride, making my first mobile/self contained speaker, and getting involved as a volunteer. I probably wouldn't be as active, or as into bikes if it weren't for Bike Party. My job has played a role in it, but it's Bike Party that really helped me learn how much fun you can have on a bike, especially with friends. Been loving every minute of it, and I plan to be riding bike party as long as we're both around.
Mike H.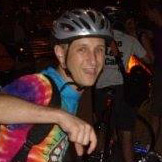 Wow it's absolutely crazy for me to think how far SJBP community has come over the years. Even though I haven't participated since leaving SJ in 2010 I still have fond memories of the early days. I distinctly remember the first Halloween ride with no planned route with maybe a dozen riders and the guy in the big banana suit. Some other memories that stand out for me:
– Nick and I putting together a half ass sound system with spare parts scavenged from my brother and friends. And the excitement it brought to the party even if it broke down/fell apart on every damn pothole or bump I hit.
– Always running late and busting our asses riding to the start of the ride with the unstable sound system because only a handful of people knew the route and no route fliers existed.
– Happening Couch.
– Drunks wiping out going down the hill near Alum Rock park.
– People on the street/cars constantly asking "What is this??" and the general confusion everywhere we went (riders included).
– Planning meetings at Good Karma consisting of 6 members trying to come up with new themes and routes.
– Being tailed by SJPD and the party being in constant fear of being broken up.
– The entire party stopping and trying to fix the flat tire that inevitably occurred every mile or so.
– Lack of food trucks at starting point/meetups (I hear that's a thing now).
James C.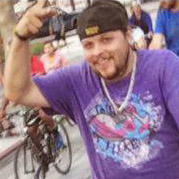 Here's to another 100 rides! I look forward to seeing the current state of the party when I return to SJ (whenever that is)
I was introduced to bike party about 5-6yrs ago. My cousin told me about Bike Party & asked me if I wanted to try it out. I pulled out a bike that was probably sitting for 8yrs put some tubes & was ready to go. My cousin didn't make it, but my Sister & other cousin rolled out & were met by a few neighborhood friends. We didn't make it the whole route & took the trolly home, but I was hooked. The next month I made my 1st music bike that only lasted about 2hrs, then I built my first trailer & got more creative over the years on them. I have met allot of good people along the way to many to mention but you know who you are, I took family, friends, nieces, nephews, & little cousins as they grew up. I've thrown pre party BBQ'd at my house for all my bike party family & now BBQ on my custom trike at one of the regroups. I don't know what I would do without bike party in my life & the people I have met along the way. I want to thank Mark for starting GIDM & bring all of us music bikes together & be able to stream as one & making me a member as well as a BIRD. (Life is like a bicycle, in order to keep your balance you must keep moving) keep on Rollin!!!!!!
John F.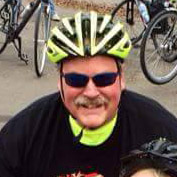 My first bike party was in November of 2014. For years I had ridden with a very serious no-nonsense road bike group, but had heard rumors about a much more casual ride that took place on the third Friday of every month. I was a little nervous about participating in (what I perceived to be) a wild and rowdy night ride, but I was pleasantly surprised to find that the ride was surprisingly well organized with a healthy emphasis on safety and good behavior.
And then there were the music bikes! I've always loved lights and electronic gadgets but had never even imagined that people would strap full sized speakers to their bicycles, sometimes riding within a few feet of each other but still playing at full blast. But even that cacophony of sound was so vibrant and alive, so joyful and exuberant that I still loved it. The auditory chaos just added to the fun of the experience.
After a few rides, my little sister Mary told me about a group of people led by Mark Hirsch who were providing a music and light show for the regroups. I had done many organized bike rides over the years including the Tierra Bella, the Tahoe ride (America's most Beautiful Bike Ride), the Wine Country ride in Napa, and the 200 mile Seattle to Portland ride. In those events, the rest stops had always been brief but necessary refueling stops and not really an integral part of the ride itself. It took a while for me to understand that the San Jose Bike Party regroups were where the real fun was happening. Within a month or so I had joined Mark's group of itinerant DJ's called "Guerillaz in Da Mixx" providing audiovisual support for the regroups. And bubbles!
Read More...
I have now been participating in SJBP for over a year. My understanding is that we are the largest bike party in the country, with the most website visits, and the most hits of any bike party on Facebook. I sincerely believe that the San Jose Bike Party is a wonderful way to build community spirit. And none of it could happen if not for the work done behind the scenes by a dedicated group of unpaid volunteers. Yay bike party!
Jon R.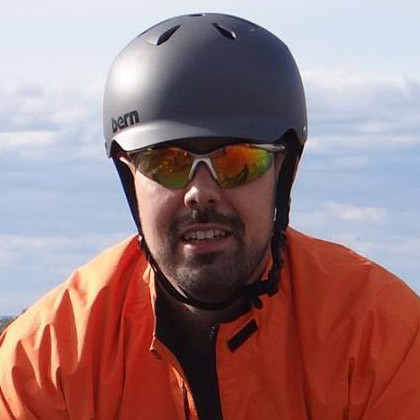 SJBP has been an amazing resource for starting up the Boston Bike Party. We've emulated the things that work well for you and we also borrowed from SFBP as well. Without SJBP we wouldn't have such a fantastic BosBP community in the northeast.