Join San Jose Bike Party for The Jersey Ride
Come Ride with us on Nov 17th at 7:30 pm and bring your favorite Jersey.
Guerillaz in the Da Mixx will be bringing the beats on the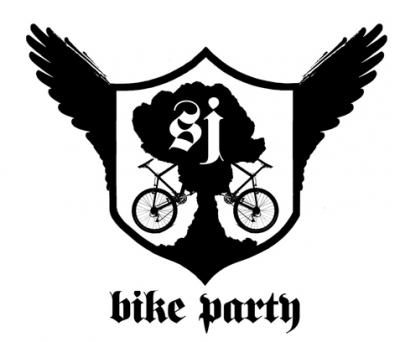 Mobile Dance Floor.  We're thrilled to be running our #LightMeUp free safety light distribution.  If you don't have a front and rear light for your bike, come see the Bike Party Birds at the start, 7:30PM, to get yours. Lights this month are provided by your donations to San José Bike Party, which have allowed us to distribute over 2000 lights so far for this program. Want to help make cycling safer in San José? Chip in over at our Donation Page.
Be visible and bring some water. We're expecting a great evening with dry weather, but in the 50s (Bring Layers)! We also encourage cyclists to ride to the start rather than drive; reducing auto traffic and parking demand.  Please look at the route and print it out
Everyone is welcome to attend this event, but please, read and follow our "How We Ride" guidelines to keep everyone safe and to keep San Jose Bike Party rolling!
Cranksgiving Food Drive
….Don't forget that Saturday is Cranksgiving – the bike based food drive. Last year 65 riders gathered over 1,300 pounds of food to benefit Second Harvest Food Bank! This year it's back and with your help we can crush last year's total and raise even more food donations for needy families in the Bay Area.
Registration is free and begins at noon at St. James Park in San Jose – the ride begins at 1:00pm. Just bring a bike, a bag, a lock, a helmet, about $20 to spend on the food you'll buy to donate (if you compete as a 'Heavy Hauler' you may want to bring more) and anything you like to find your way around San Jose.
Here is a link to the event:
https://www.facebook.com/events/115414635833348/
Friday Nights Main Ride Details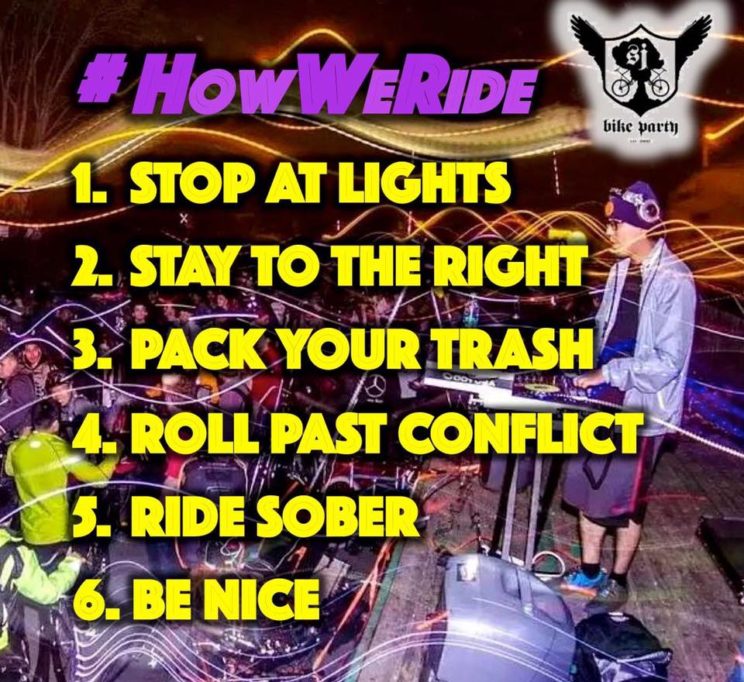 The Route
Start/Finish: SJSU Quad – Route Link
Full Turn-by-Turn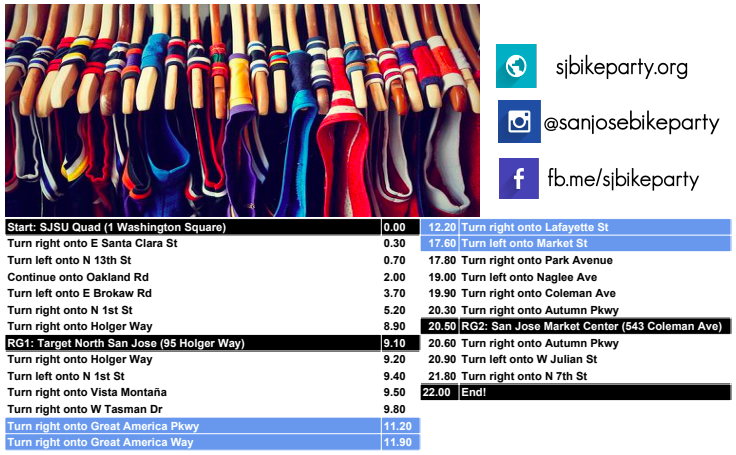 Turn-by-Turn Mobile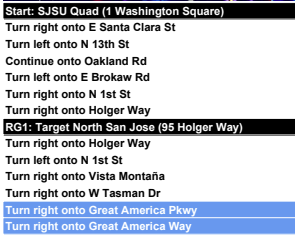 Bike Party Pre-Rides

Want to party before the party? Meet up with other people attending bike party for a group ride to the start from your own corner of San Jose!
Santa Clara Pre-Ride:
6:45 PM Departure from The Off ramp