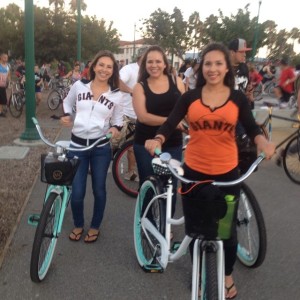 While July's ride is in the bag. It was great seeing everybody dressed in Stars and Stripes, and Red, White, and Blue. It made a big impact on the ride.

Thanks to the San Jose City Council and Mayoral candidates who were present at the ride start: Sam Liccardo, Don Gagliardi, and Raul Peralez. Although Dave Cortese was not present he sent out the Cortese Team to work the crowd.
Also at the start of this month's ride we featured and we hope you had a chance to visit San Jose Bike Polo at Shark Park. If you didn't get a chance to stop by, these polo enthusiasts are at the tennis courts every Wednesday and Sunday evenings if you would like to give it a try.
Thanks to all over you who went with the flow and followed us as we made some changes to the regroup areas. Since this is an interactive and viral ride, these things happen and we just gotta deal with it.
We do suggest that you visit and subscribe to our Twitter and Instagram feed . This is exactly what we use it for. Here is a list of update items we keep you posted on in twitter and/or Instagram.
Changes to Test Rides or Monthly rides – ride starts, regroups or times.
Interactive ride highlights and photos
Route changes or areas to avoid
We decided to mix it up a little with a band instead of a DJ this month. What did you think of Jake Mackey and Bullet? In bike party tradition all equipment used to power and distribute the sound was provided all by bike and battery power. Yes, it was a bit challenging but we were able to set it up on the fly with no major problems.
Now on to some of the comments on the ride reflections and Facebook posts. Some have mentioned that they don't like the band, or they don't like the ride route, or why we don't come to your town. As with everything else in life the devil is in the details. Needless to say it takes a lot of work to put these rides on. We continually ask for help but fall short of getting committed, reliable, and dependable help. This is an all volunteer organization.
Many have complained and we do listen. We also ask that you attend volunteer meetings, or show up on test rides to help out. Yeah we've heard it all, " I would go but I just couldn't make the meeting …..but you should do this." In these times of Facebook click'tavism, we still value meeting people face to face. As our byline states "Building community through cycling" we mean more than just an online community but coming to a meet up and introducing yourself to others in the flesh. Yes we value you positive, constructive, and well thought out criticism but they have so much more effect in person.
Look for bigger things to come next month. Until then Bike PARTY!!!!
Tell us of your concerns at those meetings. If you'd like to suggest we try something new, well guess what, we're tapped out. We may suggest you try it yourself with some backing from us. Until next month.