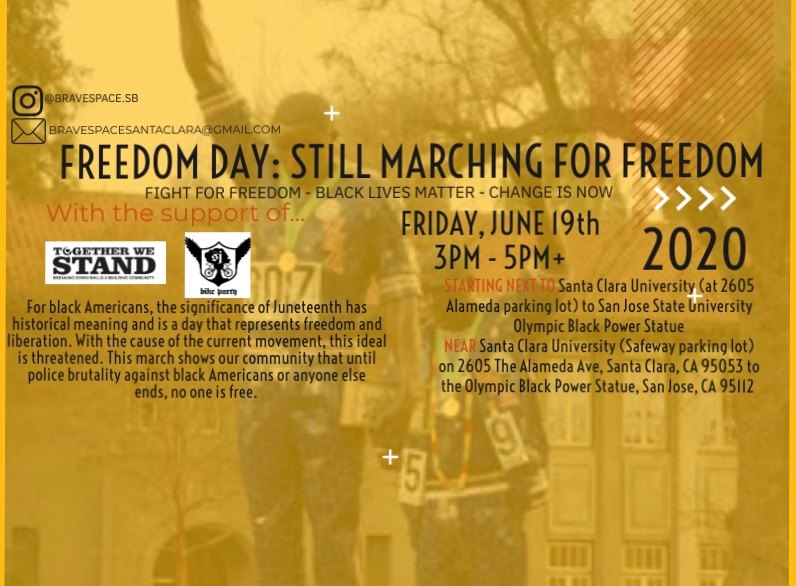 When: Jun 19 2020 3:00PM – 6:00PM
Where: Safeway Parking Lot (2605 The Alameda Ave, Santa Clara)
Who: Brave Space\South Bay Black Coalition
Route: https://ridewithgps.com/routes/32955411
San Jose Bike Party's mission has always been about building community through bicycling. Traditionally San Jose Bike Party has not held a political stance nor advocated for any specific movements or causes. However, the leadership at SJBP felt that during this time it would be irresponsible to not make a statement and show support for the social justice movements currently taking place.
South Bay Black Coalition(SBBC) has organized a march on June 19th and SJBP would like to help publicize and provide support. This event is sponsored and organized by local youth and not organized by SJBP. The pace will be slow so many riders may choose to walk their bikes. We are here to lend support and help amplify their message. We want to encourage participation but also want you to understand this is not a traditional bike party experience. Here's what we are looking for:
BIRDs to help wherever needed(possibly helping cork traffic, check on the route ahead…etc. You have experience helping, and we love you for that.)

Music Bikes – for entertainment/vibe, speeches, …etc

Cargo Bikes – Got Snacks or Water? There will likely be families with kids walking 3.5 miles.
This is a positive march in an effort to promote change and raise awareness of injustices. Please do not include foul language on signs and posters as this is a youth event and this hurts the message(No F#ck the Police, A.C.A.B, …etc). Keep it Positive. Message can be about social change, not just police brutality.
Again, this is about raising awareness in the community and that's 100% in line with the goals of San Jose Bike Party.
Q: What about COVID?
If you choose to participate please: wear masks, try to maintain 6 ft distance if possible, bring hand sanitizer and wash hands frequently. Bicyclists may choose to walk their bikes or ride depending on what suits each rider.
Brave Space, a South Bay Black Coalition
Brave Space, a South Bay Black Coalition of students, parents and community members, is a brave space for to address the microaggressions, discrimination and racism that Black people continue to face in our community, schools, sports workforce, education and friend groups.
This "Freedom Day: Still Marching for Freedom," a peaceful march, is about a larger conversation around liberation, while protesting systemic racism that plagues our daily life in this community.
Juneteenth an important day of freedom for Black and African American communities, until we have space, change minds, policies, leadership and how we interact with Black Lives in our community, we will never be free.
Join as we walk from Santa Clara University to San Jose State University, to the Black Power Statues on Friday, June 19th. As a Black Student ran march, we hope you listen, help us raise awareness to the discrimination we face in our our schools and education opportunities.
THANK YOU We @Together We Stand, San Jose Bike Party, BWOPA, CDP, African American Caucus and the administration and coaches from any of our local schools, we appreciate you hear our voices.
To learn more and if you want to partner or just participate, please email: bravespacesantaclara@nullgmail.com
If you want to donate, click here: https://gf.me/u/x7r65w to continue the conversation about the needs of Black Students.
Thank you for joining us, see you on Juneteenth!
https://ridewithgps.com/routes/32955411
https://www.facebook.com/events/268944601014488/
Turn By Turn
| | |
| --- | --- |
| Turn right onto The Alameda | 0.0 |
| Turn right to stay on The Alameda | 0.2 |
| Continue onto W Santa Clara St | 2.2 |
| Turn right onto S Almaden Blvd | 2.7 |
| Turn left onto W San Carlos St | 3.1 |
| Turn right onto S 4th St | 3.5 |
| Turn left | 3.6 |
| Turn left | 3.8 |
| Turn left | 3.9 |
| Turn left | 3.9 |
Everyone is welcome to attend this event, but please, read and follow our "How We Ride" guidelines to keep everyone safe and to keep San Jose Bike Party rolling! We share the road with other vehicles.
Having a great time and want to help? We're always looking for volunteers to help guide riders at corners or to handle other tasks. Talk to any of the "BIRDs" (look for the "bird" logo!) for details. Or you head over to our Donation Page.
Some helpful hints:
Follow the Law
Be Predictable
Be Conspicuous
Think Ahead
Ride Ready