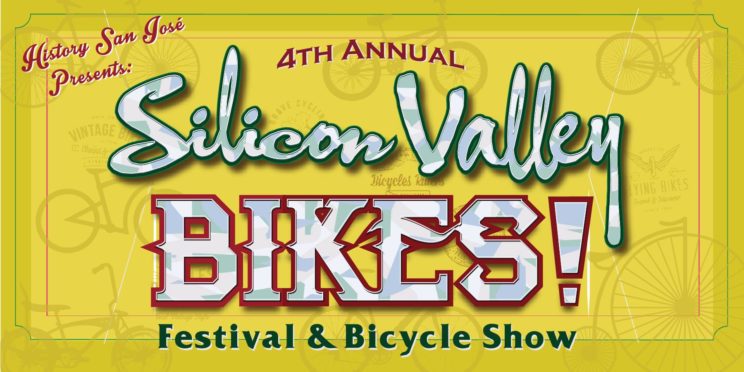 Come join San Jose Bike Party & Guerillaz in the Da Mixx  when we bring the beats to the Festival.
Come kick off National Bike Month at the Silicon Valley Bikes! Festival & Bicycle Show on Sunday, May 6th from 11:00am – 4:00pm, at Kelley Park's History Park, 635 Phelan Avenue, San José.
No other Bay Area festival brings together the Valley's largest cycling clubs, riding groups, their families, bicycling-oriented helping organizations and the general public.
Enjoy a day featuring food trucks, craft beer, a Kids' Space, thrilling BMX stunt riding shows, demonstrations, artisans, Craft, music, historical exhibitions, free valet bicycle parking and a spectacular bicycle show that attracts custom, vintage, cruiser and lowrider builders and collectors. Also exhibiting are the not-for-profit and governmental agencies that enlist cyclists to do great good and businesses that offer products of interest to cyclists and to the public.
Our volunteer-run Festival is a project of History San José and a collaboration with Silicon Valley Bicycle Coalition (www.bikesiliconvalley.org), the Mineta Transportation Institute (www.transweb.sjsu.edu), Gooseneck Bicycles Magazine, Pops Fabrication, and Santa Clara Valley Brewing (www.scvbrewing.com), with special support from the City of San José;  Stampede Bikes (www.stampedebikes.com), and the Santa Clara Valley Transportation Authority (www.vta.org).
Admission is $5, $5 per show bike, children ages five and under are admitted free.
For more information, visit: www.siliconvalleybikesfestival.org or call 408.521-5034.
About History San José:
History San José is a non­profit organization that collects, preserves and celebrates the stories of diversity and innovation in  the Santa Clara Valley. HSJ manages one of the largest and most comprehensive regional history collections in the State of California, from 1784 Spanish governmental records to twenty-first century Silicon Valley technology.
History San José 1650 Senter Road San José, CA 95112  Main#: 408.287.2290
Website:    http://www.siliconvalleybikesfestival.org/
Facebook: [Click Here]
Twitter:      @historysanjose
Instagram: @siliconvalleybikes