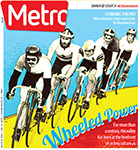 This week San Jose's weekly newspaper the Metro published two fine articles on the history of cycling in San Jose by Diane Solomon. Diane is well known for her first article "The Art of the Wheel" which was published by the Metro on May 1o, 2010. Although the article featured to young and highly artistic custom bike designers and fabricators. It really was the start of Diane Solomon's long discovery of cycling history in San Jose. In that article she writes;
 In the late 1880s, there were 4,000 people in San Jose, 27 bike clubs and nearly that many bike shops. Everybody was bike crazy because San Jose had perfect weather and lots of smooth city and country roads to ride on.
In her article this week she opens up her report on cycling history and culture with account of a recent San Jose Bike Party ride.
At almost midnight, 5,000 bicyclists of all ages on bikes of all styles are staggered along Brokaw Road. The beats thump from synchronized sound systems and a steady whizz of rubber accompanies. They're headed toward a regroup at Lowe's parking lot on Coleman Avenue. Here they'll find lego-lined food trucks, games for young and old, and lots of socializing.

San Jose Bike Party, a volunteer-run, 17 to 24-mile ride held on the third Friday night of every month, brings together the families and the hipsters, the diehards and desperados tagging along on pegs. The atmosphere, however, is almost always one of unity. Each party sets out on a different route around San Jose neighborhoods, rolling through Japantown one month and maybe Willow Glen the next.

Just as the route varies, so does each ride's theme—riders may dress up and decorate their bikes accordingly. Last month's theme was the Neon Rave Ride. The theme for the July bike party, taking place July 18, will be Stars and Stripes.

With San Jose bike partiers, new bike lanes on San Jose city streets, Hellyer Velodrome, Bay Area Bike Share stations, recreation and racing clubs, the San Jose stage of the Amgen Tour of California race and charities like Turning Wheels for Kids and Good Karma Bikes, Silicon Valley has become a bicycling mecca.
It was her 2010 article that pointed her to the amazing historical resources available at History San Jose. Combing through the archives she discovered the rich racing culture that has been with us for over 100 years. Her work and research along with the archives and work of History San Jose will be on exhibit for about a year starting on Sunday, July 27, 2014 in the Pacific Hotel at Kelly Park in San Jose. Put this exhibition on you list of things to do this summer. You will not be disappointed.
San Jose Bike Party is proud to be a part of a community with such a great weekly newspaper, the Metro and a valuable community resource such as History San Jose. Check out bike history, but also check out all the great events they have planned and please support them any way you can. They have been very supportive of the bicycle community, please support them.