How's you summer going so far? Its been busy, but are we having fun dreaming up new ways to get you on your bike.
Well we've still got plenty of rides and events planned for you this summer. In a previous post ("A summer of fun, and this is just the start") we mentioned some great rides and activities for the warm days ahead, but just like your favorite infomercial we just have to shout, "but wait, there's more!"
Just one week before our annual Ladies Ride, San Jose Bike Party will be teaming up with History San Jose and Behind Bars, Inc. to launch this groundbreaking celebration of bicycle history in San Jose.  All events will be taking place at Kelly Park, centered at the restored Pacific Hotel. All events will be held in Kelley Park so check below for more details. Here are some of the events in store:
Silicon Valley Bikes – Passion, Innovation and Politics since 1870 presented by History San Jose

Many of you in the bike community know Diane Solomon. Four years ago she wrote an amazing article on the custom bicycle design team known as Shorty Fatz (Art of the Wheel, Metroactive, May 13, 2010). That article ignited a creative spark as well as deepened her curiosity on the history of cycling, and cycle racing in the Santa Clara Valley. After many painstaking hours of research over the last few years and with the generous support from History San Jose, this labor of bike love is now ready to present to you, the Silicon Valley Cycling community and our San Jose Bike Party friends.
This exhibit will highlight bicycle innovation, bicycle racing, and the cycling leaders in the valley during the last 130 years.  This yearlong exhibit will open on Sunday, July 27 and will continue for up to a year so please show your support.
This event is California's premier bicycle show! Hundreds of bicycles of all types will be on show. Make it a great day out with vendors, food trucks, kid zones, entertainment, music, exhibitions and more!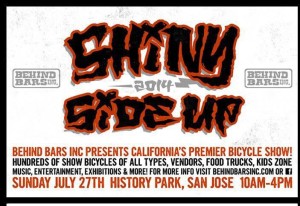 Workshops and Talks
In preparation for the following weeks Ladies Ride, San Jose Bike Party will be conducting two entry level bike repair workshops for women as well as other talks on the history of cycling in the Santa Clara Valley. . Join Jessica O'Neil bicycle mechanic with Facebook, Inc. talk about tire repair, general maintenance, and quick fixes for your bike out on the street.
Also there will be additional workshops for women and a round table discussion from some of the Santa Clara Valley's pioneer bicycle racers. Stay tuned.
These workshops will be held in the exhibit space within the Pacific Hotel (see map)
Event Details
When: Sunday, July 27, 2014
Time: 10 am to 4 pm
Where: Pacific Hotel within Kelly Park entrance is on 635 Phelan Ave., San Jose, CA 95112 (detailed map)
Cost: $5 entrance or to display a bike.