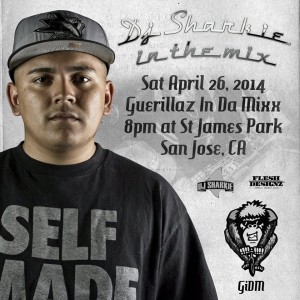 Guerillaz in Da Mixx is a mobile bicycle dance party that seeks out the forgotten, the forbidden, and the unfortunate, and utilizes the element of surprise and extraordinary mobility to bring the beats to our brothers and sisters in San Jose.
Been to our monthly bike party rides? Well these rides are a bit different. We are a tight knit group of dancers and riders. The rides are shorter with one quick stop and then an unannounced stop later on. Then we begin our night of beckoning beats and dancing among  pulsating laser lights. Yes the rides are shorter but the nights are longer, lasting until the last dancer is left standing.
There is not a monthly theme style ride but a few rides and you'll soon realize that music and dance are our themes. This month's DJ is none other than DJ Sharkie. We start at Saint James Park in downtown San Jose. Ride is on Saturday, April 26th. Wheels hit the street at 8 PM.
Guerillaz in Da Mixx – Join the Facebook Group
GiDM is not affiliated with San Jose Bike Party but does follow SJBP's  "How We Ride".