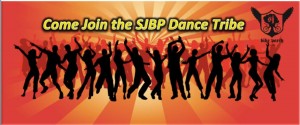 As the weather gets warmer there's nothing better than getting on your bike and dancing. Dancing? Yeah come join the tribe; the Dance Tribe. By now you know how bike party works but did you know we also set up a dance area with synchronized music bikes, a DJ (or other entertainment), and a light show. Top this off with food trucks and you've got a great evening. DJ Nate will be at April's Flower Power Ride on the 18th so come out and join us.
So lets do this! We need folks to be Dance Leaders…. fearless ride-dancers who are willing to get up there and set things off. We need to transform things a bit here in the South Bay and we need your help to do it!
If you are bringing a music bike, please post up your specs and look for the Orange Guerilla Bike at the start and stops to connect up. We utilize a series of wires and wireless hookups to create a cohesive dance floor.
Here's the lineup:
April –  Flower Power Ride:   DJ Nate (check out DJ Nate on Soundcloud)
May  –   Ride of the Gods:       Deejay Live
June –  Neon Rave Ride         DJ  A.O.
Music Bikes
Music Bikes are a key part of San Jose Bike Party and we encourage anyone interested to come on out with your bicycle based sound system  We do however ask that you follow some basic guidelines:
Be able to control your volume and use common sense when going through residential areas after 10pm.  Be forewarned, tickets are occasionally issued for noise heard beyond 50 feet from your "vehicle".
Don't compete with other music bikes.  Turn down your volume when overtaking another music bike & also turn down if you come up on another music bike at a stop light.  The lead music bike has the right of way at stops.   Music on Music is noise; nobody likes it and it detracts from enjoying the ride.
Don't overpower your system to the point of distortion.  Loud does not necessarily equate to good when it comes to sound quality.  If you want to increase your power, talk to some of the other music bike captains and ask them to share their experience.
At the stops, come join in the sync up if you want to be part of the main dance area, or find another clear area to play where you are not stepping on or competing with other music bikes. For more more information on joining the music bike sync or other music bike related topics please contact sjbikeparty@

null

gmail.com
Please note: For those of you who are looking for a more music and dance centric ride check out our Guerillazz in Da Mixx rides. Shorter routes, one brief rest stop, and then an all night dance and music stop.