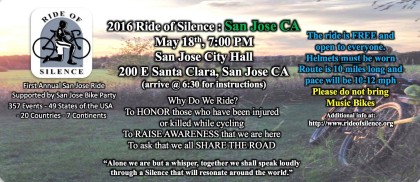 Ride with us in solidarity May 18th at 7:00PM from City Hall. Please wear a helmet and leave your music at home for this ride. ROUTE:   2016_Ride_of_Silence_-_San_Jose www.rideofsilence.org
Get Inside Bike Party Interested in helping SJBP? Join us at Casa Vicky, Monday, May 16th @ 7PM for our volunteer meeting. Agenda: 1. BIRD patches update. 2. Route Leaders and their roles. 3. Volunteer Duties. Review of these duties. 4. Corners, Counters, Light Installers, Porta Potties! 5. Ride of Silence update. 6. Ladies Ride update. […]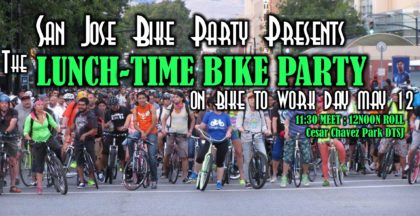 As part of the Bike to Work day activities, we are throwing a short Lunch Time Bike party.  We will be meeting at the newly activated area of Cesar Chavez park at 11:30 and rolling at noon for a short music filled ride through DTSJ, back in time before the lunch hour is over. Come […]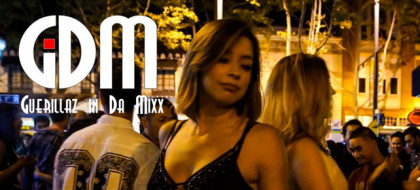 Join Guerillaz in Da Mixx for a night time ride plus downtown traveling dance party Saturday, April 30th. The ride features wirelessly synced music, and joining the Cat's in Space Space Battle event! Check the Facebook Event for the secret start location 24 hours beforehand.
Photo by Sheldon Hambrick This year San Jose Bike Party hit the eight year mark of "Building Community Through Bicycling" and we will be completing our 99th Ride later this week. Our Raven bikes that were launched in 2013 are still riding strong keeping our regroups cleaner than we found them & also giving us […]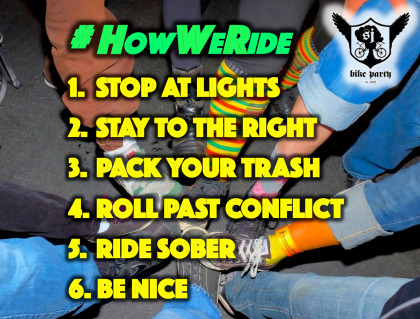 We've been at work with some new How We Ride Graphics. You all know this right. Point out these tips to your friends who are new to the ride. #HowWeRide.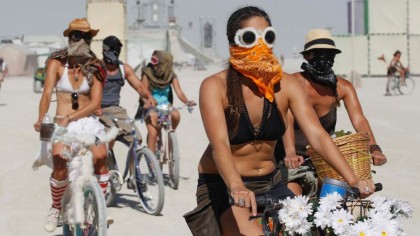 Help choose upcoming themes. It's that time. Help make this summer unforgettable. Don't forget to use the scroll bar on the right side and hit the submit button at the end. Loading…

Erin go Bragh! Did you know the first St. Patrick's day parade was not held in Ireland but in Boston, Massachusetts in 1737. And did you know the first bike ride outside of Ireland with the Lord Mayor of Dublin was held in San Jose, California in 2012. Well, there ya go. This month's theme […]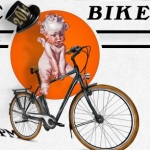 January Theme: The New Years Ride ARTIST BIO: NAME: Trevor V. (a.k.a. Anony Mowse or F2B – depending on where you find me.) AGE: If one is even remotely familiar with the works of Douglas Adams, or simply performs a Google search on the query, "What's the answer to life, the universe, and everything?" that […]
The San Jose Sharks get into the holiday season rockin' their own ugly sweaters. Featured in this mornings Hockey News, the online paper stated "Over the past few years, the San Jose Sharks have made a habit of having a bit of fun around the holiday season. Be it an infomercial for a holiday album […]