Archives by date
You are browsing the site archives by date.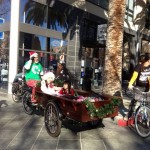 Happy holidays everyone. On Saturday, December 14, San Jose Bike Party hosted an event that helped raise critical holiday foodstuffs for needy San Jose families. The event pushed by Bike Party superbird SJRides (aka Andrew) was a great success raising over $1,200 on short notice.  Here at Bike Party Central we are always amazed  at […]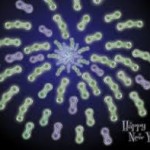 This year San Jose Bike Party hit the six year mark of "Building Community Through Bicycling". Who would of thought that a small monthly ride would have spawned a San Jose cultural institution? SJ Bike Party has grown to become the largest free monthly cycling event in the United States. Not only is Bike Party […]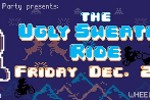 First of all a big thank you to the San Jose Bike Party Birds. They did an amazing job last night covering corners and the entrances to the regroups. Next month thank them personally. They are a big part of what makes this ride tick. Also thanks to the Raven Bike crew. They have been […]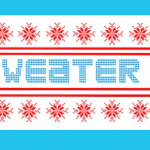 See below for route information and regroup photos. Yes it is getting colder; and that means sweater time. But not just any old sweater. We want you wearing the  UGLIEST sweater you got in the closet. Let's celebrate the season by celebrating tacky sweaters.  Who knows, if you want we can hold an ugly sweater […]
The City of San Jose is giving away bike lights and helmets to deserving cyclists  a few hours before Friday night's Ugly Sweater Ride. Here is the ask. If you have time on Friday before the ride (4-5:30 pm) how about helping out to give helmets and bike lights out cyclists on Friday evening. […]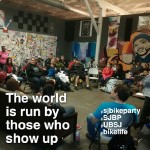 Part of the crowd that showed up last night at Sperry Station for the volunteer meeting to choose themes. And yes it is run by those who at least show up. Thanks Autonomous for the pic.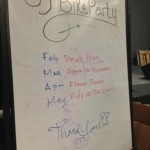 If you missed last night's volunteer meeting at Sperry Station/Ghisallo Cyclery we had a packed house. We started with a reading of ideas taken off of our Facebook Page. Some of the contenders were; Elmer Fudd vs.The Easter Wabbit, People of Wal-Mart, That One Ride, Rainbows and Unicorns and others. And the winners are: February – […]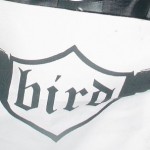 It's the most wonderful time of the year. Yep that's right. It's time to choose themes for upcoming rides. We'll also talk about BIRDS and Ravens, and an upcoming BIRD party. Here are the details: Who: You What: San Jose Bike Party Volunteer Meet up When: Monday, December 16, 2013 Time: 7 PM […]

This month's artwork is from Teri "T-Bone" Nguyen. It is  inspired by the geometry found in knitted sweaters and 8-bit video games alike, along with the artwork of Charles M. Schulz, of course with a few liberties taken here and there. Teri is an all-around creative juggernaut with a bike that goes everywhere! For 28 […]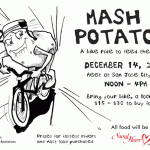 Join us this Saturday at San Jose City Hall Plaza for an opportunity to make a difference this holiday season. San Jose Bike Party will be helping Sacred Heart Community Service this weekend to help feed our neighbors.  Registration begins at 11:30 AM. Wheels hit the street at noon. MASH 4 POTATOES is an alley cat […]