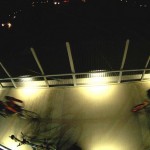 The promise of rain couldn't keep Bike Party from happening last night. Approximately 1,200 riders were counted right after the Winchester Movie Domes.  What could have been a down pour in spots, turned out to be a fantastic ride!  Honestly, the weather couldn't have turned out nicer.  Many thanks for all the volunteers who posted […]
What a glorious bunch of holiday lights tonight! Tonight's ride was quite possibly the best received!
Another wonderful ride has carried us to our bedtimes, and asleep with pleasant memories of gliding down gentle grades we go. Tonight's ride harkened back to days past in Bike Party lore, with a ridership count of around 600, approximately a sixth of October's ride and a number we haven't seen since April.  Apparently the […]
Ride #21: 17.25mi, 1,535 riders. All of this impressive growth brings some staggering problems. What can we do to clean up the ride, both literally and figuratively?
Wow, what a night! 1,000 riders! So many good thoughts and good times…this really is what it is all about. Major props go to the many, many volunteers that make the rides flow – we will turn this valley into a Bike City yet!
March's Psychedelic Robot Ride just finished, and what a night it was! We broke new records right and left – over 500 riders after a year and a half of rides, and tons of website traffic to boot. Share your comments and reflections on the ride in the comments below!