Category Archives:
Uncategorized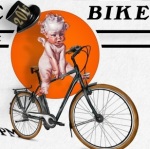 January Theme: The New Years Ride ARTIST BIO: NAME: Trevor V. (a.k.a. Anony Mowse or F2B – depending on where you find me.) AGE: If one is even remotely familiar with the works of Douglas Adams, or simply performs a Google search on the query, "What's the answer to life, the universe, and everything?" that […]
The San Jose Sharks get into the holiday season rockin' their own ugly sweaters. Featured in this mornings Hockey News, the online paper stated "Over the past few years, the San Jose Sharks have made a habit of having a bit of fun around the holiday season. Be it an infomercial for a holiday album […]
Looks like a great turnout for the annual Turning Wheels for Kids Annual Big Bike Build. Three San Jose Bike Party related teams of volunteers this year: 1. San Jose Bike Party 2. Guerillaz in Da Mixx 3. Emmons Family Team Thanks to all for stepping up and helping the community. For more information check […]
It started here in San Jose and spread around the world. Check out the growing list of Bike Parties worldwide. Click on map markers for pictures, videos, and more information. We will be adding more info, pictures, and video soon. Travelling to a bike party city? Well now you know.