Category Archives:
In the news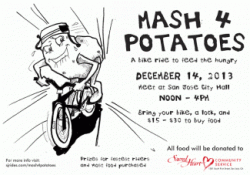 Join us this Saturday at San Jose City Hall Plaza for an opportunity to make a difference this holiday season. San Jose Bike Party will be helping Sacred Heart Community Service this weekend to help feed our neighbors.  Registration begins at 11:30 AM. Wheels hit the street at noon. MASH 4 POTATOES is an alley cat […]
New Year update:  e-mail your comments before the end of tomorrow! After you e-mail Caltrans, post your letter as a comment on this post below! Caltrans is making plans to address the automobile traffic problems surrounding the 280/880/Stevens Creek Blvd interchange near Valley Fair Mall. However, their plans do not include provisions to fully address the […]
The Santa Clara County Board of Supervisors has a proposed Special Event Ordinance on their June 22 agenda for discussion at 10am. This ordinance threatens the existence of San Jose Bike Party, as well as any rides of more than 50 riders! It's overreaching and possibly prohibited by the CVC. The Silicon Valley Bike Coalition […]
Great news, we have added a new link to our Bicycle Community Section of the website. Feel free to check out all links.
San Fernando will be closed to cars… Invite your friends and family! Details
These are two follow-ups to two separate Hit & Run incidents. 1) Race St  on March 19, 2010 [Green Ride] 2) Hwy 9 on April 8, 2009 ["PLEA date" is Friday, May 7th, 2-4pm] GREEN RIDE Hit & Run This incident occurred on Race St on Friday, March 19th. The fact that this happened on […]
Wow. Bike party riders really stepped up to the plate tonight, to throw together an amazing ride with some fantastic press coverage. The best part of Bike Party is that we keep changing and evolving to meet the needs of San Jose's growing bike community.
We just received some pleasant attention from San Jose's main column and blog for road users, including a comment from a regular Bike Party rider.  You can read it here.