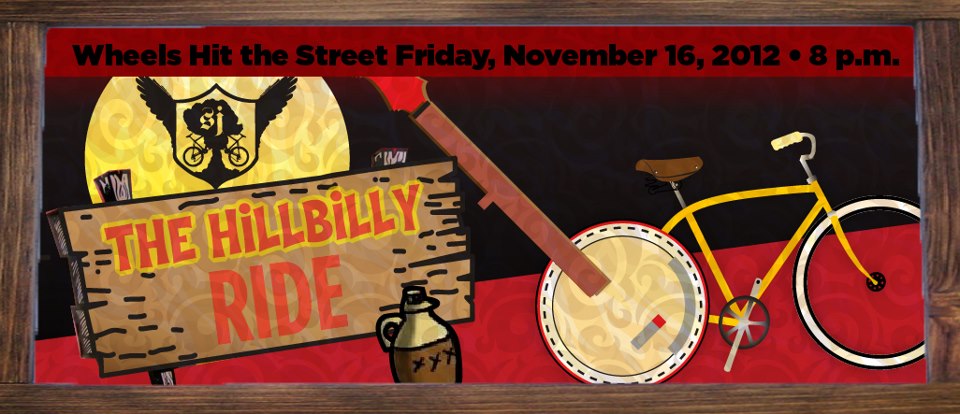 Lock up yer sister cause this month we are gonna be exploring the Silicon Valley Hillbilly style. Think banjos, coveralls, jaw harps, and wWashboards. Teeth are optional. Daisy Dukes should be fine too as long as you don't get too cold.
While the warm summer days have dwindled it still seems like good weather for a hoedown this Friday but as always you have to judge for yerself.
Being neighborly is the Hillbilly way (see How We Ride!), lest we start off another feud like the legendary Hatfield's and McCoy's. Turn down yer tunes in residential areas after 10pm!
Information on the route and more after the drop …
BIRDs
BIRDs are our wonderful volunteers that attempt to keep everyone on our rides safe. Please be respectful of their directions and thank them for all of the effort they put into the ride. If you want to help out and make your mark on Bike Party, please join the BIRDs at the volunteer cicle prior to the start of the ride.
Ravens
Ravens are the elite group of BIRDs that make sure we leave no trace behind by cleaning up after the party at regroups. They are essential to keeping the party going and they can't do it by themselves. When you see any of them with a trashbag collecting your trash, please thank them! They are a really cool bunch. Please bring trash bags and help us leave no trace.
How We Ride
If you follow these simple rules, Bike Party will be safe and a positive place for riders, drivers, pedestrians, and our community.
Stop at lights
Stay to the right
Pack your Trash
Roll Past Conflict
Ride Sober
Be nice
Route information
Feeder rides
Feeder rides are a great way to get to Bike Party They allow you to make great friends and get to know people who live near you. They also make it super easy to get back home as a group as most folks ride home with the group they arrived with. You save the planet and save on parking while getting a little bit more exercise. It's all good.
Palo Alto — ??
Willow Glen — ??
SJ Downtown — ??
La Dolce Velo — ??
East SJ — ??
Campbell — ??
Los Gatos — ??
Your neighborhood? (let us know in comments below if you want to lead a ride)