Attention all you costume loving going all out themed people, we NEED YOUR HELP. We need theme ideas.  Please visit our wiki and add whatever your heart desires.  It may be the next theme.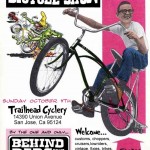 We have so many amazing riders with amazing tricked out bicycles.  Please show off your bicycle at this Custom Bike Show.
We just received some pleasant attention from San Jose's main column and blog for road users, including a comment from a regular Bike Party rider.  You can read it here.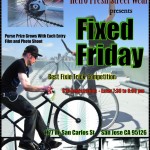 Our friends at Retro Fresh are throwing this event:
While there is no official count of how many people attended the No Pants ride, it is estimated that more than 2500 people made it.  I know looking at all the heads at the Long's regroup, I was amazed how we filled up the entire parking lot with bikes. I personally witnessed many wonderful attributes […]
Thanks to everyone who attended the Scallywag Scavenger Hunt! We had over 115 people attending and about 35 teams!! Congrats to our first place winners: If you have any suggestions for future weekend rides, post them here.  We had fun, lets do it again!
Help plan the route for the next Bike Party! Pre-Ride #1 for July's Ride at ~7:00-7:15 pm start time this Thursday evening, June 25th, starting at Dick's parking lot.
Due to the high volume of comments, we are having our planning meeting early while thoughts and issues are fresh in our minds. All riders are invited to help plan the ride, we just ask that you have attended at least two rides (so you have educated input), and come with an attitude of "I […]