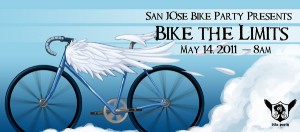 Save the date for San Jose Bike Party's second annual Bike The Limits
Ride! Bike The Limits get its name from last year's routing, which
rolled along the San Jose City Limits for 30, 60, or 100 miles! This
year's route will have a similar theme. The short route will cover
about 33 miles, the middle distance will be a metric century (100km ~
62 mi), and the full ride will be 100 miles long! The routes will be
designed such that the shorter routes will follow the initial portions
of the longer routes before breaking back to the start point.
Routes
Start
@San Jose City Hall at 8:00am be early so you aren't left behind…