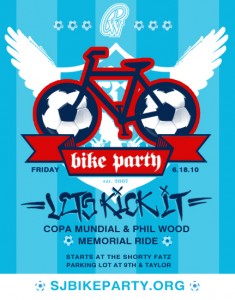 Pre-ride festivities start at 6pm this Friday, June 18th!     See schedule below.
Every 4 years, teams and fans from far and wide all come together to share a common goal, the quest for the cup.
About every 4 Fridays, we like to think SJBP riders share the same kind of excitement about our own journey.
The competition is beginning to heat up in South Africa, and so is the weather out here in San Jose. Come out a join us for a beautiful summer night ride through the heart of East San Jose.
Theme:
So …. Wear a Jersey, Carry Your Teams Flag, Paint Your Game Face! San Jose is about to be infested with Hooligans on wheels.
Details:
This round we got a few tricks up our sleeve .. so we are encouraging everyone to come out and enjoy the Pre-Ride Festival. We don't usually do this, but we are giving out the start location REALLY EARLY … so y'all can BLOG ABOUT IT and get the buzz going like a South African Vuvuzela.
Worried about missing dinner? Don't! There will be plenty of vendors selling food out their "ride thru" windows, so people are encouraged to come early.
Start: Shorty Fatz Parking Lot
401 E.Taylor Street #180A
San Jose, CA 95112
(9th Street just north of Taylor Street)
June Ride Agenda:
More ride details will be posted 24-72 hours before the event.
Feeder rides are:
North San Jose / Santa Clara @Rivermark Peets Leaving @6:00pm
South San Jose, leaving @6:30pm, led by Townie Bill:
Look for the orange hooligan on the well lit Townie at Robertsville Center parking lot located on Branham Lane in the shade next to the Post Office, between Almaden Expressway and Lizzie Lane at 6:30pm. We will get to the 'North of Downtown' start by 7:00 with an hour to play with.
Goooooaaaaal!