Its cold outside, so so cold so we are having a scarf ride!! This is an easy "costume," and you have NO excuses not to dress up.  We want to see that scarf fly like a flag!
Because of the season, we are pushing the ride up slightly earlier.  Wheel's will hit the street at 8 PM.  That means, get there early!!!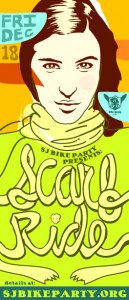 Sneak peek of route and starting location:
The ride will start and end in downtown SJ.  As always, the exact starting location and route will be announced a day or two before the ride-perhaps earlier!
The route will include a nice tour of lots of lights throughout the town (tentatively dt SJ, Willow Glen, Rose Garden, Campbell and more…)
Getting There:
If you must use VTA, get there early.  Light Rail fills up quickly.  Take Light Rail early to downtown San Jose for dinner.
If you need to park, park using the downtown SJ parking map, the orange lots are the cheapest. Or park at Tamien CalTrain and ride in; it's only about two miles.
If you are taking a train, the San Jose Diridon Station is the closest, but Tamien CalTrain Station has free parking – station list and map
Ride your bicycle to the starting point! We will be announcing pre-ride meet ups with the route.
Other Important things to remember:
We are having a can food drive.  Bring a can, bring ten!! Help out those who need it this season
We are starting early-don't forget it!!
If your bicycle/clothing is ill prepared for the cold wet winter weather?  Winterize it.  Join us for a great time at our Winter Wonderland holiday party two nights before Bike Party and get an extra SJBP discount that night only!
Refresh yourself and your friends of the "how we ride" and bicycle laws.