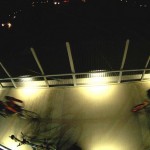 The promise of rain couldn't keep Bike Party from happening last night. Approximately 1,200 riders were counted right after the Winchester Movie Domes.  What could have been a down pour in spots, turned out to be a fantastic ride!  Honestly, the weather couldn't have turned out nicer.  Many thanks for all the volunteers who posted […]
What a glorious bunch of holiday lights tonight! Tonight's ride was quite possibly the best received!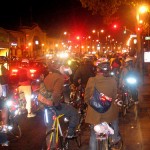 Happy Holidays! We have a neighborhood-focused ride full of holiday lights this month. There are a few important things to remember: Arrive on time!  Wheels hit the street @ 8pm! Light up your bike!  It's dark, it's the holidays, DO IT. Please don't forget to follow the "How We Ride." Make this a successful ride […]
Here's the latest, most updated route for this Friday's Troll Ride!
The draft route for the April ride has been posted! This ride is a loop that will return to Dick's Center.