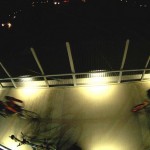 The promise of rain couldn't keep Bike Party from happening last night. Approximately 1,200 riders were counted right after the Winchester Movie Domes.  What could have been a down pour in spots, turned out to be a fantastic ride!  Honestly, the weather couldn't have turned out nicer.  Many thanks for all the volunteers who posted […]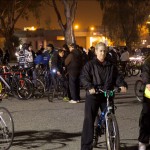 What a fantastic ride last night! Around 1000 people passed the split where the ride took two routes, and a bit over an hour later everyone was back together again near Capitol and McLaughlin.
What a glorious bunch of holiday lights tonight! Tonight's ride was quite possibly the best received!