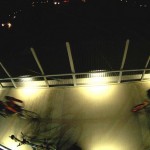 The promise of rain couldn't keep Bike Party from happening last night. Approximately 1,200 riders were counted right after the Winchester Movie Domes.  What could have been a down pour in spots, turned out to be a fantastic ride!  Honestly, the weather couldn't have turned out nicer.  Many thanks for all the volunteers who posted […]
Wow, what a night! 1,000 riders! So many good thoughts and good times…this really is what it is all about. Major props go to the many, many volunteers that make the rides flow – we will turn this valley into a Bike City yet!
Here's the latest, most updated route for this Friday's Troll Ride!