San Jose Bike Party celebrates The No Pants Ride III
 Summertime and the dressin' is easy.
Skirts, kilts, shorts, boxers, skorts, whatever. Celebrate the warm evenings of August and join us for the return of the No Pants Ride.  The month's 21 mile ride will start  from the Strike Brewing Co. on 10th St. and pass through south San Jose. Our DJ team is Swell Sessions, composed of David Bu Hau and Mr. Brandon. Swell Sessions DJ team and the mobile dance floor are brought to you by Guerillaz in Da Mixx.  The ride returns for a finish at Strike Brewing.  We will be riding a 20+ mile route so bring lights and some water. We will have relief tents (porta pees) at Regroup 1 near the dance floor so check the Regroup 1  photo.
We encourage cyclists to ride to the start rather than drive; reducing auto traffic and parking demand. As always San Jose Bike Party encourages riders to review our "How We Ride" guide. Everyone is welcome to attend this event.
Just need the route? It's here.
Feeder Rides to The No Pants Ride.
Since parking is always a premium at the start why not do a short pre-ride with a close group of friends.
1171 N Capitol Ave San Jose, CA 95132. Leaving 6:45 pm  (Details on FB)
Leaves from San Jose Bicycles  560 Tully Rd., San Jose, CA   Leaving 7:00 pm     (Details on FB)
Leaves from the Off Ramp Bicycle Shop. Meet up around the west side of the building.  Leaving at 7:00pm SHARP(Details on FB)


Leaves from Safeway, 3002 Story Rd., East Side San Jose.  Ride leaves at 6:45 pm. (Details on FB)
Here's the
full turn-by-turn sheet
.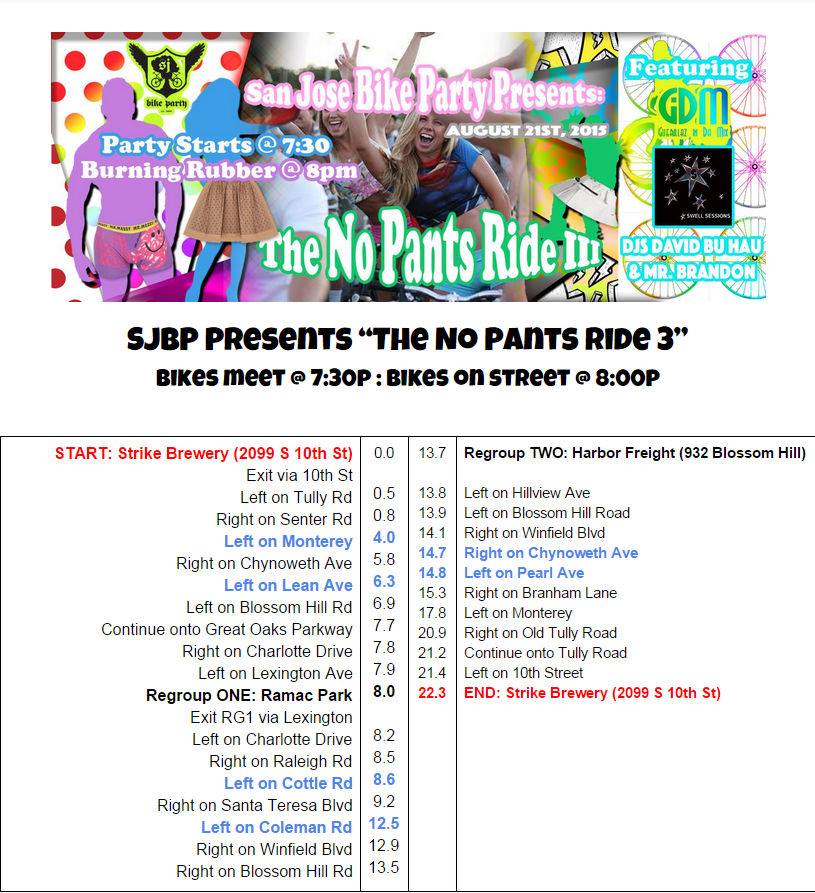 And here are some turn by turn directions you can pull up on your phone. Here is a link to the original.