Category Archives:
BikePartyPeople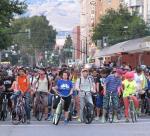 As the evenings get colder, the nights longer, and the ride more smaller and intimate, its a good time to reflect on what a great year Bike Party enjoyed in 2014. As one comment to the San Jose Metro weekly newspaper put it "San Jose Bike Party is better now than it has ever been […]
This Friday the East San Jose Bike Coop will be initiating the first youth based feeder ride from the East Side. San Jose Bike Coop is a new organization doing great things incorporating safe riding and bike maintenance to middle school riders. Let's hope the weather cooperates but as Cassidy Kakin of ESJBC tells us they […]
The folks over at the Green Ninja show produced by the Environmental Studies department at San Jose State University has produced this video highlighting San Jose Bike Party. Thanks to Eugene Cordero and all the other "Green Ninjas".
What a night. The first of our winter rides was off the charts. With a rain free cool evening we hit Campbell and West San Jose like Las Vegas players. Elvis was even seen on the dance floor. Thanks to everyone for packing their trash. The regroups looked fantastic this morning. You're all awesome. Thanks […]