San José Bike Party will be repping bike culture at Viva Calle SJ, a free program that opens miles of scenic San José streets for people to walk, bike, skate, and play and explore the city like never before. You'll find San José Bike Party at the intersection of West San Carlos Street and Lincoln […]

By
Ryan
on August 24, 2016
Stay tuned for more details, but meanwhile, start working on your theme! Mark your calendars for one of the SJBP test rides this month, because we love to see everyone out supporting SJBP! Our test rides help us improve our routes so you and your friends have a better Bike Party, so come join the die-hard […]

Stay tuned for more details, but meanwhile, start working on your theme! Mark your calendars for one of the SJBP test rides this month, because we love to see everyone out supporting SJBP! Our test rides help us improve our routes so you and your friends have a better Bike Party, so come join the die-hard […]

Come join in on the fun and support your sister cyclists! Our annual Ladies Ride rolls Saturday, July 9th at 5:00pm from Williams Street Park, E. Williams and 16th St. near downtown. Music, food, riding, and good company. Ladies of all riding backgrounds, including beginners, are encouraged to attend as the pace of the […]

Same Bike Party Time, Same Bike Party Place GO SHARKS!!!
Come on out and enjoy a beautiful Sunday ride, with music provided by Guerillaz in Da Mixx, May 29 at 2PM starting at Cataldi Park! It's an easy 6-8 miles with classic tracks and one regroup spot. We hope to see you there! Please leave your speakers at home, music will be provided for all. […]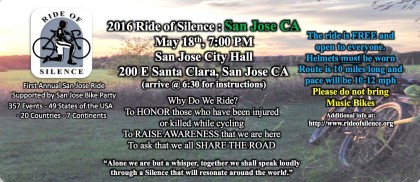 Ride with us in solidarity May 18th at 7:00PM from City Hall. Please wear a helmet and leave your music at home for this ride. ROUTE:   2016_Ride_of_Silence_-_San_Jose www.rideofsilence.org
Get Inside Bike Party Interested in helping SJBP? Join us at Casa Vicky, Monday, May 16th @ 7PM for our volunteer meeting. Agenda: 1. BIRD patches update. 2. Route Leaders and their roles. 3. Volunteer Duties. Review of these duties. 4. Corners, Counters, Light Installers, Porta Potties! 5. Ride of Silence update. 6. Ladies Ride update. […]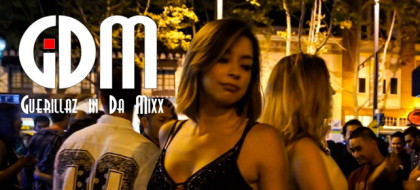 Join Guerillaz in Da Mixx for a night time ride plus downtown traveling dance party Saturday, April 30th. The ride features wirelessly synced music, and joining the Cat's in Space Space Battle event! Check the Facebook Event for the secret start location 24 hours beforehand.
NEW DATE:  Saturday March 26th – 11AM It's time to let the wee ones ride! San Jose Bike Party presents the Kidz Bike Party Superhero Ride, the first of 2016 and part of our continuing series of rides which focus on getting kids excited about bike riding and giving them an opportunity to participate in […]