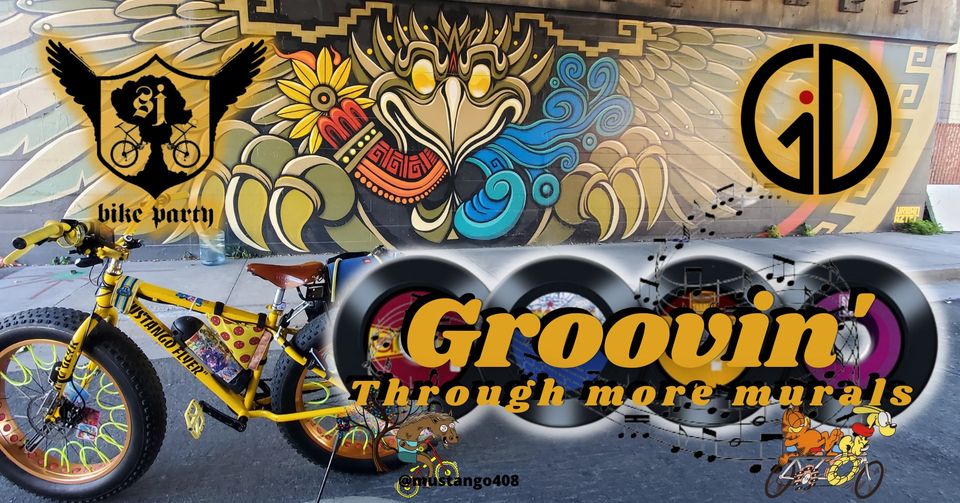 When: May 07 2022 12:00PM – 3:00PM
Who: San Jose Bike Party
Can't get enough of San Jose's murals and sunshine? We've got great news! We'll be leading a Groovin' ride right after the mural ride, leaving from Japantown, winding our way through sunny and scenic San Jose before ending at Arena Green. More miles? More smiles!
This 6.5 mile add-on ride is sure to keep the good vibes going and the music thumping. Can you think of a better way to spend your Saturday?
We'll gather at Empire 7 Studios immediately after the SJ Walls Mural Ride and depart at 12:30.
https://www.facebook.com/events/704847014162405/
Everyone is welcome to attend this event, but please, read and follow our "How We Ride" guidelines to keep everyone safe and to keep San Jose Bike Party rolling! Â We share the road with other vehicles.
Having a great time and want to help? We're always looking for volunteers to help guide riders at corners or to handle other tasks. Talk to any of the "BIRDs" (look for the "bird" logo!) for details. Or you head over to our Donation Page.
Some helpful hints:
Follow the Law
Be Predictable
Be Conspicuous
Think Ahead
Ride Ready