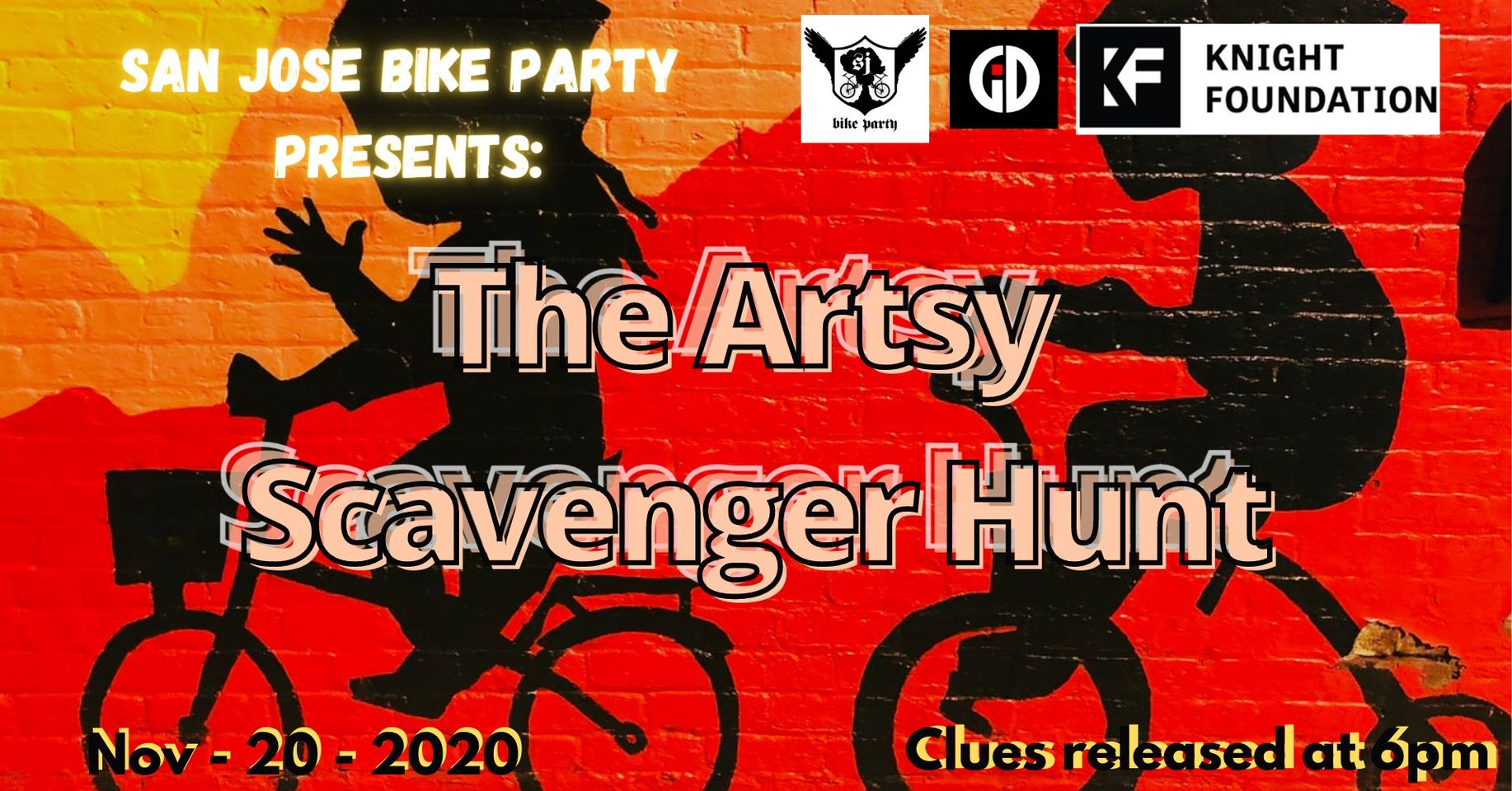 When: Nov 20 2020 6:00PM – 11:59PM
Who: San Jose Bike Party
San Jose Bike Party invites you to join us on an homage to art. We're looking for the art that inspires you, defines the places we live and ride, and makes you think!
Find your bike, light your lights, and set off on a Bike Party adventure of your own!
We've created a list of sights for you to seek out on your ride this Friday, making sure that you can find them scattered across the South Bay (or local to wherever you are riding). You'll ride to the destination, snap a photo of your bike with it, and then upload it to Facebook or Instagram with #sjbikeparty! Can you find each item on the list? How many miles will you cover while you're doing it?
Better yet, turn on your mapping app and track your route and mileage for the evening. When you're done, screenshot, upload, and tag that too! Who knows, maybe your ride on Friday will inspire a route once Bike Party is up and rolling again!
Check FB or Instagram on Friday (11/20) at 6 PM for our list of photo ops!
FAQ
Q: Where's the starting point??
A: Your front door! COVID cases are on the rise, so we're not organizing group activities. Wear your mask, ride your bike, and stay safe!
Q: What are the prizes this month?
A: No prizes this month. It's like herding cats trying to get y'all to submit photos in a way that we can easily see them all.
Q: When are we going to do real bike parties again?
A: When it's safe to do so! We like you all too much to risk your health! Wash your hands and wear a mask so we can ride together sooner.
https://www.facebook.com/events/357172455580747/
Everyone is welcome to attend this event, but please, read and follow our "How We Ride" guidelines to keep everyone safe and to keep San Jose Bike Party rolling! We share the road with other vehicles.
Having a great time and want to help? We're always looking for volunteers to help guide riders at corners or to handle other tasks. Talk to any of the "BIRDs" (look for the "bird" logo!) for details. Or you head over to our Donation Page.
Some helpful hints:
Follow the Law
Be Predictable
Be Conspicuous
Think Ahead
Ride Ready