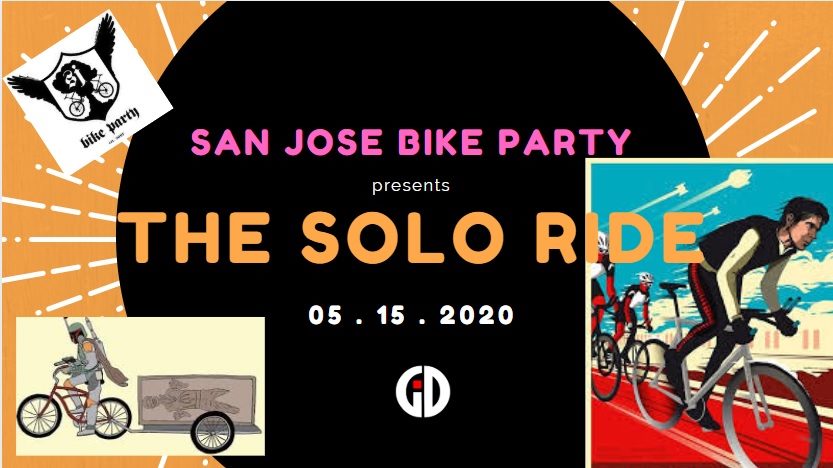 When: May 15 2020 8:00PM – 9:00PM
Who: San Jose Bike Party
Zoom: https://us02web.zoom.us/j/87930019131?pwd=UjhGN3pPOXR1RngvckZ5T3FSd21IQT09
Join us for a Virtual Solo Ride on Friday at 8PM. A live event URL will be announced on Friday. If you're able to mount your phone or other camera device safely while riding around at 8pm PDT Friday night, please join us live on the video conference! DJ David Bu Hau will be bringing the Tunes along with some great video from our photographers and video volunteers. Bring your love and join us in celebrating Bike To May month.
If you're riding stationary equipment indoors, that works too! Please join us!
If you're not able to connect live, we'd still love to get photos and videos from your rides. Please tag them with #SJBPRideSolo.
If you are out riding and want to just listen, you'll be able to do that via the tunein app at: https://tunein.com/radio/Echoplex-Radio-s269665/ or at http://eplex.xyz on any device. Folks tend to have better results with the TuneIn app!
If you are at home on a stationary bike or just eating delivery, you can watch on The Kondut: https://konduit.live/event/11575
"I am super glad that y'all reached out to me for this. I miss playing events in general, but not being able to rock the renegade urban dancefloor this summer is especially rough. Nothing else in the south bay provides the massive love and awesome boogie of Bike Party!"
DJ David Bu Hau
https://www.facebook.com/events/177106956901651/
Everyone is welcome to attend this event, but please, read and follow our "How We Ride" guidelines to keep everyone safe and to keep San Jose Bike Party rolling! We share the road with other vehicles.
Having a great time and want to help? We're always looking for volunteers to help guide riders at corners or to handle other tasks. Talk to any of the "BIRDs" (look for the "bird" logo!) for details. Or you head over to our Donation Page.
Some helpful hints:
Follow the Law
Be Predictable
Be Conspicuous
Think Ahead
Ride Ready