Cancelled!
San Jose Bike Party has held our big group rides on the 3rd Friday of each month – rain or shine, everything but snow – for the last eleven years. But, for the first time, we're cancelling our ride.
The San Jose Bike Party HUB has been closely monitoring the air quality levels all week discussing whether or not the ride could happen. Like a lot of you, we've learned exactly what air quality ratings are; as well as what particulate matter is and how horrible it is to our lungs just breathing it in – let alone while riding bikes. You don't need to become a research scientist to know that though – you're already well aware of how hard it is to breathe! Please be careful with your lungs, friends!
It's a bummer to cancel the party – but ultimately, it's because of a lot of tragedy and horrific loss. Count your good fortune. Hug your friends and loved ones. Have a great Thanksgiving with so much to be thankful for…and start planning your costumes for The Krampus Ride in December.
San Jose Bike Party presents The Cartoon/Anime Ride. Cosplay as your favorite animated character and join us on Friday, November 16 for our #3rdFriday monthly ride!
——————–
Will we cancel the ride; or shorten the route? MAYBE.
Due to the devastating fires ravaging our state, the air quality is really poor (obviously). We have been monitoring the Particulate Matter Numbers via the Environmental Protection Agency all week. (That's fancy talk for "How Thick Is The Nasty Junk The Air?") Forecasts vary; and change with the onset of additional fires. We already have a back-up plan, and a back-up back-up plan hoping to keep the party rolling. So, check back here on Friday after 1pm for the final update.
As of right now, THE RIDE IS A GO – and at the full sixteen miles.
–>We strongly, strongly recommend you use an N95 Respirator Mask. These can be purchased for about two bucks at your local and big-box hardware stores (Ace, Home Depot, Lowe's). Don't settle for a bandana. Read this: https://insidefirstaid.com/prevention/what-makes-a-good-n95-mask-or-respirator
–>The temperatures are expected in the low 50s. Please bring lots of extra layers to stay warm!
–>CHECK BACK HERE (Twitter, IG, FB) ON FRIDAY AFTER 1PM
Again….any change to the event including shortening the ride, changing the route, or cancelling the ride altogether will be finalized on Friday by 1pm. The event will be updated; and we'll spread the word.
We're bummed about having to tone down the party; but the root of the air quality is a lot of tragic, actual loss. There's a good chance you know someone who lost everything; or they're a friend of a friend. Our hearts go out to the tens of thousands of people suffering from the aftermath fires throughout our state. We send them, and the emergency crews working tirelessly, all of our strength.
*If you want to nerd out on Air Quality Data – click here: http://www.baaqmd.gov/about-air-quality/current-air-quality/air-monitoring-data?DataViewFormat=daily&DataView=aqi&StartDate=11/14/2018&ParameterId=316
Remember to check back on Friday after 1pm!
————————
Join us at San Jose City Hall, 200 E Santa Clara St, San Jose, CA 95113
Gathering starts around 7:30. Wheels hit the street at 8pm.
Please remember to "Pack your Trash" so that we can keep Bike Party Rolling. Â Leaving trash can prevent us from returning to a Regroup location.
Guerillaz in the Da Mixx will be bringing the beats on the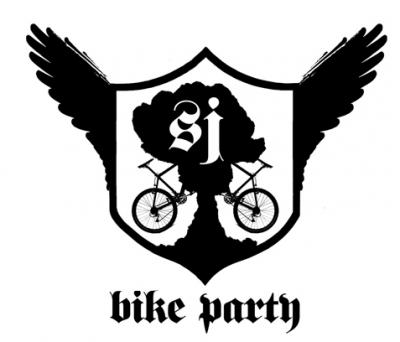 Mobile Dance Floor.  We're thrilled to be running our #LightMeUp free safety light distribution.  If you don't have a front and rear light for your bike, come see the Bike Party Birds at the start, 7:30PM, to get yours. Want to help make cycling safer in San José? Chip in over at our Donation Page.
Be visible and bring some water. We're expecting Cooler weather!
We also encourage cyclists to ride to the start rather than drive; reducing auto traffic and parking demand. Â  Please look at the route and print it out.
Everyone is welcome to attend this event, but please, read and follow our "How We Ride" guidelines to keep everyone safe and to keep San Jose Bike Party rolling!
Some helpful hints:
Follow the Law
Be Predictable
Be Conspicuous
Think Ahead
Ride Ready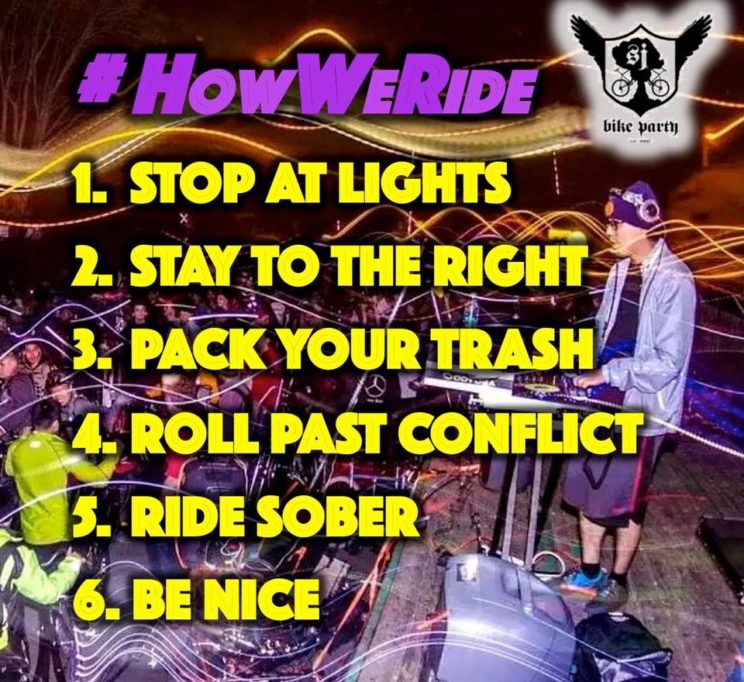 Friday Nights Main Ride Details
The Route
Start/Finish: San Jose City Hall, 200 E Santa Clara St, San Jose, CA 95113 . – Route Link
Full Turn-by-Turn
 Turn By Turn  Google Drive Link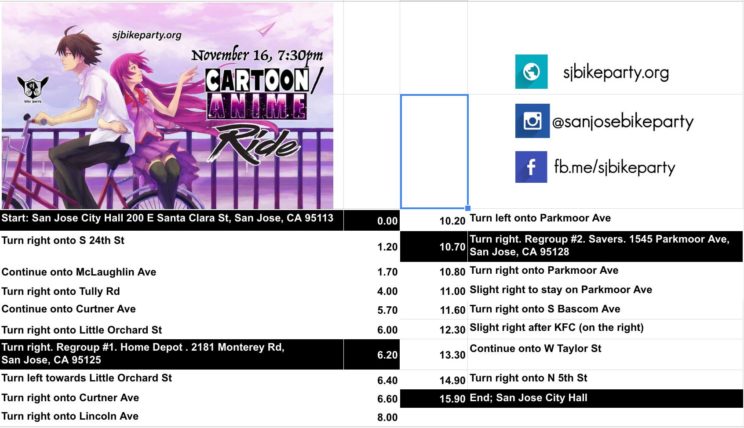 Bike Party Pre-Rides

Want to party before the party? Meet up with other people attending bike party for a group ride to the start from your own corner of San Jose!
*BERRYESSA PRE-RIDE:
pre-ride start point: Peet's Coffee, 1066 E Brokaw #80, San Jose CA
time: meet 7:00pm, roll 7:15pm
riding time & distance: 25 minutes / 3.8 miles