NEW YEAR NEW GEAR! On January 20th at 7:30PM come ride with San José Bike Party. Our ZOMBIE APOCALYPSE theme is the perfect excuse to get decked out in warm, scary gear. Will you join us? Or will you fall to the scourge?

Well we just crossed the Tennessee border…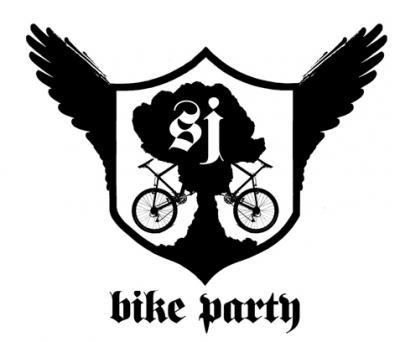 Guerillaz in Da Mixx will be bringing you the regroup beats at the mobile dance floor. We'll be running our #LightMeUp free safety light distribution. If you don't have a front and rear light for your bike, come see the Bike Party Birds at the start, 7:30PM, to get yours. Lights this month are provided by your donations to San José Bike Party, which have allowed us to distribute over 1000 lights so far for this program. Want to help make cycling safer in San José? Chip in over at our Donation Page.
Be visible and bring some water. We're expecting a cool, damp evening, so wear layers to keep warm! We also encourage cyclists to ride to the start rather than drive; reducing auto traffic and parking demand.
Everyone is welcome to attend this event, but please, read and follow our "How We Ride" guidelines to keep everyone safe and to keep San Jose Bike Party rolling!
The Route
Start/Finish: Tasman & Alder VTA Parking Lot – 516 Alder Dr. -Â Route Link
Full Turn-by-Turn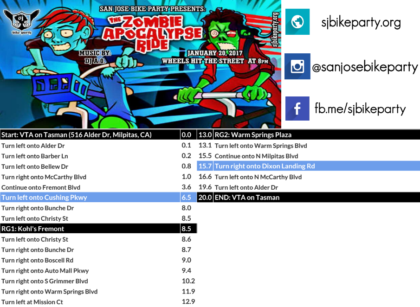 Turn-by-Turn Mobile
Bike Party Pre-Rides

Want to party before the party? Meet up with other people attending bike party for a group ride to the start from your own corner of San Jose!
Santa Clara Pre-Ride  (Facebook Event)
The Off Ramp – 6:30PM
2369 El Camino Real
Music by GiDM