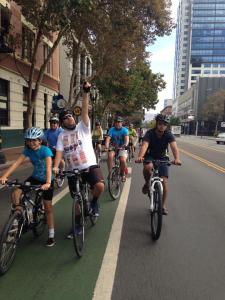 Thanks to all those that showed up last Sunday for our Bollywood Bike Party. This was our first annual ride following on the heals of our successful Ride with the Lord Mayor of Dublin, Ireland. The ride was in conjunction with the City of San Jose's Bollywood week which finished with a sold at "SLAM Tour" show at the SAP Center. The city had asked San Jose Bike Party to host a ride feature our world famous music bikes with a playlist full of Bollywood music and dance favorites.
We had a ride announcement appear in Sal Pizarro's Mercury News column, along with a full article written by the Mercury New's Joe Rodriquez, which was picked up by other newspapers as well.
We had a lot of request to post the playlist. Stay tuned. We plan to post the Bollywood playlist soon.
Special thanks to the super helpful folks over at the city's Office of Economic Development led by Kim Walesh. We also had tremendous help from Joe Hedges and Tina Kapoor also with the OED. Here's to the first annual ride and many more to come.
Also we are planning to ride in the near future with the Mayor of our newest sister city of Guadalajara, Mexico, the Honorable Ramiro Hernández García.
Photos: Tina Kapoor