San Jose Bike Party presents the 5th Annual Ladies Ride
Ride details and route to be released soon. Check back here for updates.
But here is what we have for now.
Day: Saturday
Date: August 2
Time: 5 pm
We are currently wrapping up the route for this annual ride but we wanted the ladies of the Silicon Valley to put this on your calendar. This ride is for Ladies only. You are welcome to bring along accompanied children who are physically capable of completing the ride. We do ask however that no accompanying males be over 14 years of age.
Please use this ride to make meet new people, share riding stories, accomplishments, and most importantly make new friends.

Jessica O'Neil to hold two bike repair workshops
We are pleased to have Jessica O'Neill, professional bike mechanic, currently with Facebook to provide two workshops for women on bike repair.
We will be partnering with History San Jose and Shiny Side Up at Kelly Park to hold the two workshops on the weekend before the Ladies Ride. There are only a limited amount of seats available so register now.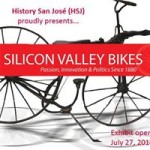 Day: Sunday
Date: July 27, 2014
Time: Park activities will be from 10 am – 4 pm. Women's workshops at 11 am and 12:30 pm
Location: Wetzl Room in the Pacific Hotel at Kelly Park (This is the same room as the new bike exhibition)
Two workshops: How to Fix a Flat and General Bike Maintenance.
(See registration form below)
In addition to the workshops their will be a bike show, museum exhibition, food trucks and more.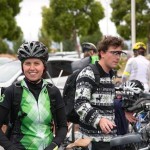 Here is a biography for Jessica who is volunteering here time to hold these workshops. Thanks Jessica.
Jessica's love for bikes started the moment she outgrew training wheels. As a kid growing up in the rural California Sierra Nevada, riding a bike was sometimes the only form of entertainment. However, it wasn't long before she found herself going further, longer with each day. The sense of freedom, adventure and peaceful escape that rides provided are some of the many aspects of cycling that have kept her on two wheels ever since.

Eventually her passion for bicycling spawned a career that is now six years strong. As a mechanic and outdoor school instructor at REI, Jessica first developed her mechanical expertise and passion for encouraging others to ride. More recently, she has moved on to Facebook headquarters as a professional mechanic. When not working on bikes, she is teaching classes, leading rides, developing programs and organizing events.

As a personal goal to get more women on bikes, she also leads a series of women-only classes, rides and events that promote ridership through education and supportive mentorship. Collectively, her work at Facebook helps to shape a culture that embraces cycling as a practical means of transportation. Her ultimate goal is to help expand this culture beyond the confines of Facebook and into the greater community.