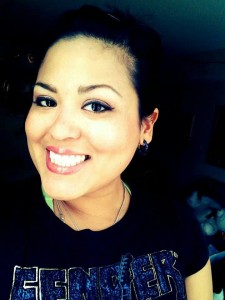 This month's artist is Isabel Quinonez, a 29 year old local from San Jose. You may remember Izzy from a story we did back in December titled "Bike Party People – Giving back to San Jose". In that article we highlighted her great work helping to raise food for the needy during the holidays, and she talked about how bike party transformed her. Here is Izzy in her own words about her art.
My name is Isabel Quinonez I'm 29 years old and born and raised in San Jose, Ca. Biking has always been a part of my life. Being from an era where the internet didn't exist,  bicycles were a pastime for the neighborhood kids and I. We had our own Bike Parties and much like today it was a great way to catch up with each other, entertain our friendships and well, bond.
I gradually familiarized myself with SJBP . I first found out about it just from seeing people riding around town. I was instantly curious. I think SJBP is a simple, community driven event that brings a lot of us back to our childhood. Where fun wasn't such a hard thing to have. It's family, friends and bicycles. Inexpensive entertainment that helps us feel connected and informed.
When I think back to my childhood years what stands out is art and cycling. I've been doing Art since I was in diapers. Handing me a box of crayons and scratch paper was my Mother's way to keep me put and occupied.
I've always kept my art handmade with little to no assistance from technology. There's a certain rawness and sense of pure human accomplishment that I feel when I'm finished. It never takes me 5 minutes to throw something together using an app or computer program.
On the contrary, it takes brainstorming, battling art block and sketch delete, repeat until satisfied. Raw materials. Color blending. It so human that way. I tend to be nostalgic, which is why this theme was an honor to provide artwork for. The Flower Power movement had such neat handmade posters. I never strive for perfection but to capture a moment and feeling.
Thanks Isabel. We love it!