Jarek Azevedo
33, San Jose
This month's artist is Jarek (Jar as in Yard) Azevedo, a multi-talented bike partier who has contributed photos, video, and graphic artwork on many occasions. Yes those amazing Dead Presidents Ride photos were his work. Talent and hardwork are two key traits.
Visual arts are not his only passion. He also built and rides one of the synchronized music bikes you see on the ride, at regroups, and at Guerillaz in Da Mixx events.
What's your experience with Bicycles?
Almost always had a bike from just a tyke to my late teens, but my lifestyle was absorbed into the steel cage for some time before I reclaimed the passion. Have been heavy into two wheeled motion for over four years now and have been supporting the scene with a music bike in some form for almost as long. You'll currently find me on Blue BaBoom!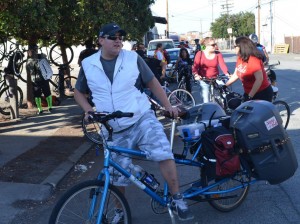 How'd you first hear of SJBP?
I was having dinner with my family downtown on a rainy day and saw just a swarm of people rolling by. I thought it was a fluke, but they kept coming and coming. I ventured outside and regardless of rain… smiles for days were what I saw. I Googled, "San Jose Bicycle Parade" and got a lead on a Craigslist open invite.
What are your thoughts about SJBP and its effects on SJ?
The only negative socially is that it exposes those in our communities that are intolerable. Folks who's day is completely ruined within 30 minutes are a hard group to convince what we do for everyone is positive. Not everyone can afford karate lessons nor does everyone feel like playing football at 10pm. Bike Party keeps physical activity at the forefront without reckless, territorial competition.
What are your thoughts on SJBP artwork?
We have had some great work on display in past and some not so great – It's a great local venue to be noticed without spraying your name on a highway overpass.
How'd you get into the type of art you are doing now?
I have done graphic art since I got out of high school. My dad, Tom is an accomplished artist and my uncle Joe and cousin Arianna both are graphic artists — must run in the family! I haven't had any formal training. That's sometimes good… sometimes bad.
Anytime you create something with the intent to educate, entertain and inspire you are succeeding in life and that's what makes San Jose Bike Party the sum of all its parts.

Want to contribute artwork to San Jose Bike Party! Contact us here at Bike Party Central with some samples of your work.