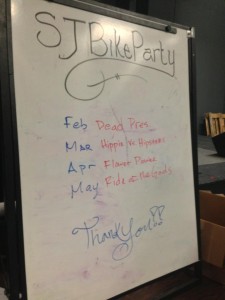 If you missed last night's volunteer meeting at Sperry Station/Ghisallo Cyclery we had a packed house. We started with a reading of ideas taken off of our Facebook Page. Some of the contenders were; Elmer Fudd vs.The Easter Wabbit, People of Wal-Mart, That One Ride, Rainbows and Unicorns and others.
And the winners are:
February – The Dead Presidents Ride
March- Hippies & Hipsters
April – Flower Power
May – Ride of the Gods
Don't forget January's ride theme is Feathers & Fur.