Don't Forget DST starts this weekend (spring forward)!!!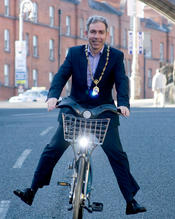 SJBP would like to invite you to ride with Andrew Montague, the 342nd Lord Mayor of Dublin, as well as council members, and other notables from our City Hall as we take a slow tour of what we love about cycling in our fair city and hopefully introduce them to what Bike Party is all about.
Bring your friends and family but most importantly bring your Music trailer. Everyone should be prepared for a leisurely paced ride that starts and stops at City Hall.
Click the more link below for a reminder of how we ride and details on the event
How We Ride
If you follow these eight rules, Bike Party will be safe and a positive place for riders, drivers, pedestrians, and the community.
1. Stay in the Right Lane – NEVER ride the sidewalk. NEVER ride against oncoming traffic
2. Leave Nothing Behind – Don't trash San Jose
3. Stop at Red Lights
4. Ride Straight, Ride Predictability – Slower Riders should stay to the right
5. Roll Past Conflict
6. Leave No One Behind
7. Ride Sober! It's illegal and dangerous to ride a bicycle inebriated
8. Communicate to Fellow Riders! (We need your help in encouraging everyone to follow the rules!)
Agenda & Timelines
9:30Â AM Dublin Mayor arrives …meet, greet and photo ops.
10:00 Wheels hit the Street.
Route information
Feeder rides
Feeder rides are a great way to get to Bike Party They allow you to make great friends and get to know people who live near you. They also make it super easy to get back home as a group as most folks ride home with the group they arrived with. You save the planet and save on parking while getting a little bit more exercise. It's all good.
NSJ/Santa Clara — Led by Ian from Rivermark – Meet in front of Peets – Leaving at 8:30 AM (please RSVP in the comments)
SCU/Santa Clara — ??
East SJ — ??
SJ Downtown — ??
Campbell — ??
Willow Glen — ??
Los Gatos — ??
Your neighborhood? (let us know in comments below if you want to lead a ride)