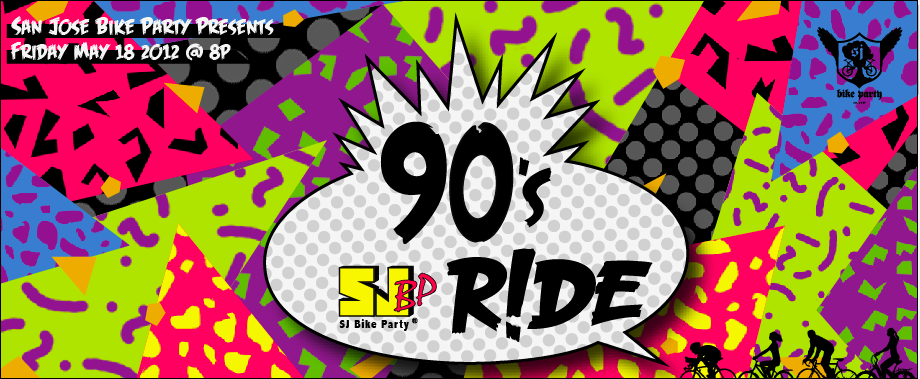 May's theme is the '90s! Like any decade, a lot happened in the '90s. Here are a few ideas for inspiration:
MC Hammer released U Can't Touch This
Clinton was the US President for most of the decade
The dot-com craze was in full force
OJ Simpson led the police on a 50-mile low-speed chase before turning himself in.
The Simpsons first season aired on TV
Christopher Columbus discovers the New World (oh wait, that's the 1490s. Still the '90s, I suppose)
Need more ideas? Check out the Wikipedia entry about the 1990s.
As you can see theres a ton of stuff to chose from here.
Be safe, legal, and courteous (see How We Ride!). We share the road with other traffic. Helping cars move through smoothly makes the ride more enjoyable for everyone. Do your part to encourage good behavior! Also, please remember to turn down the volume when riding through residential areas late at night.
Information on the route and more after the drop …
BIRDs
BIRDs are our wonderful volunteers that attempt to keep everyone on our rides safe. Please be respectful of their directions and thank them for all of the effort they put into the ride. If you want to help out and make your mark on Bike Party, please join the BIRDs at the volunteer cicle prior to the start of the ride.
Volunteer Circle
Volunteer Regroups are now marked on the map if you want to get plugged in come by and introduce yourself
Ravens
Ravens are the elite group of BIRDs that make sure we leave no trace behind by cleaning up after the party at regroups. They are essential to keeping the party going. If you see any of them with a trashbag collecting your trash, please thank them and if you are so inclined please join them! They are a really cool bunch. Please bring trash bags and help us leave no trace.
How We Ride
If you follow these eight rules, Bike Party will be safe and a positive place for riders, drivers, pedestrians, and the community.
1. Stay in the Right Lane – NEVER ride the sidewalk. NEVER ride against oncoming traffic
2. Leave Nothing Behind – Don't trash San Jose
3. Stop at Red Lights
4. Ride Straight, Ride Predictability – Slower Riders should stay to the right
5. Roll Past Conflict
6. Leave No One Behind
7. Ride Sober! It's illegal and dangerous to ride a bicycle inebriated
8. Communicate to Fellow Riders! (We need your help in encouraging everyone to follow the rules!)
Route information
Feeder rides
Feeder rides are a great way to get to Bike Party They allow you to make great friends and get to know people who live near you. They also make it super easy to get back home as a group as most folks ride home with the group they arrived with. You save the planet and save on parking while getting a little bit more exercise. It's all good.
NSJ/Santa Clara — Led by Ian from Rivermark – Meet in front of Peets – Leaving at 6:45pm (please RSVP in the comments)
La Dolce Velo — ??
East SJ — ??
SJ Downtown — Led by Alex Arzate from San Jose City Hall. Leaving at 7pm SHARP (see comments below)
Campbell — Meet at Campbell Water Tower in Downtown Campbell. Leaving at 6:30pm. Approximately 9 miles to the start.
Willow Glen — ??
Los Gatos — ??
Your neighborhood? (let us know in comments below if you want to lead a ride)