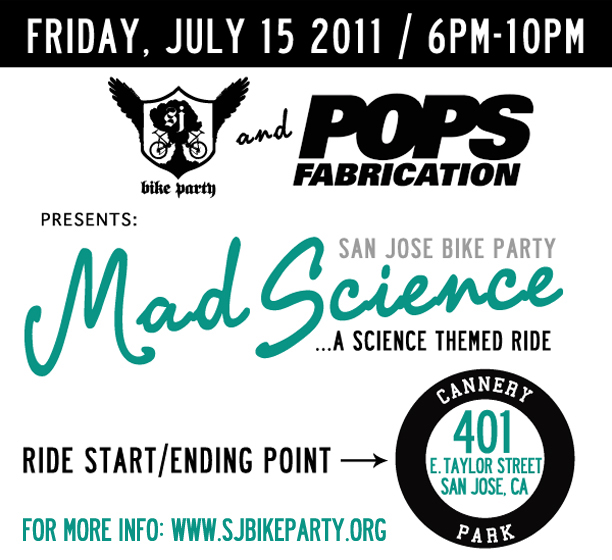 The 3rd Friday is early this month. While our scientists are busy figuring out why that is the case, you should get ready to ride. Our lunar experts assure us that we will have a full moon this month, which should make for some great riding. However, they still caution that you must have at least a front light and side and rear reflectors (rear lights are highly recommended) to be street legal on a bicycle at night.
Be safe, legal, and courteous (see How We Ride!). We share the road with other traffic. Helping cars move through smoothly makes the ride more enjoyable for everyone. Do your part to encourage good behavior! Also, please remember to turn down the volume when riding through residential areas late at night.
You will want to get to the start point early this month! Special events include: a raffle for a POPS FABRICATION 8 Series, a fixed trick bike competition (18 and under), music from DJs D!STRAKT and VENOM 347, and SJ clothing vendors Clout, Booger Kids, Breezy Excursion, and ODMD. Several food trucks will be there to satisfy your hunger. San Jose Taiko will be "drumming for donations" for Japan Tsunami Relief efforts. You can donate to the Japanese Red Cross Society at the performance or online at their Paypal page.
Information on the route and more after the drop …
BIRDs
BIRDs are our wonderful volunteers that attempt to keep everyone on our rides safe. Please be respectful of their directions and thank them for all of the effort they put into the ride. If you want to help out and make your mark on Bike Party, please join the BIRDs at the volunteer cicle prior to the start of the ride.
Volunteer Circle
We will need volunteers (BIRDs and others) at key intersections, such as at a few stop signs, near freeway exits and before and in the regroups. If you'd like to help us, look for the circle of volunteers that will assemble around 7:30-7:45pm.
Ravens
Ravens are the elite group of BIRDs that make sure we leave no trace behind by cleaning up after the party at regroups. They are essential to keeping the party going. If you see any of them with a trashbag collecting your trash, please thank them and if you are so inclined please join them! They are a really cool bunch. Please bring trash bags and help clean up.
How We Ride
If you follow these eight rules, Bike Party will be safe and a positive place for riders, drivers, pedestrians, and the community.
1. Stay in the Right Lane – NEVER ride the sidewalk. NEVER ride against oncoming traffic
2. Leave Nothing Behind – Don't trash San Jose
3. Stop at Red Lights
4. Ride Straight, Ride Predictability
5. Roll Past Conflict
6. Leave No One Behind
7. Ride Sober! It's illegal and dangerous to ride a bicycle inebriated
8. Communicate to Fellow Riders! (We need your help in encouraging everyone to follow the rules!)
Route information
Schedule of Special Events
There's a ton of stuff going on at the start before we leave. Get there early to eat and watch the show!
| | |
| --- | --- |
| 6:30pm | Contest Registration |
| 6:30pm | Food truck start serving |
| 7:00pm | 18 and Under Fixed Gear Freestyle Competition/Jam Session |
| 7:30pm | SJ Taiko Performance/Fundraiser |
| 7:45pm | Volunteer circle |
| 8:00pm | Wheels hit the street! |
Parking
To make room for the festivities, parking is NOT available at start location.  If you need to drive, please use the large FREE county parking lot at Hedding and First Street.  From there, it's a short ride down Hedding to a right on 10th Street and a right on Mission Street to get to the start. (MAP)
Feeder rides
Feeder rides are a great way to get to Bike Party They allow you to make great friends and get to know people who live near you. They also make it super easy to get back home as a group as most folks ride home with the group they arrived with. You save the planet and save on parking while getting a little bit more exercise. It's all good.
NSJ/Santa Clara — Led by Ian from Rivermark – Meet in front of Peets – Leaving at 6:30pm (please RSVP in the comments)
SCU/Santa Clara — Led by Rapid Robert – Meet at Safeway on The Alameda – Leaving at 6:45pm
East SJ — Led by Cristian – Meet at Carl's Jr. at Alum Rock and Jackson – Leaving at 6:15pm SHARP
SJ Downtown — Led by Alex – Meet at City Hall – Leaving at 6:35pm SHARP
Campbell — Led by Ed – Meet at Campbell Water Tower in downtown Campbell. Meet up at 6:15pm, leaving at 6:30pm
Willow Glen — Led by Rise – Meet at KFC at Meridian Ave and Curci Drive (between Willow and Fruitdale), leaving at 6:15pm SHARP
Los Gatos — Led by Couch Bike Dude – Meet at Little League field parking lot (Los Gatos Creek Trail/Miles Avenue), leaving at 6:00pm
Your neighborhood? (let us know in comments below if you want to lead a ride)