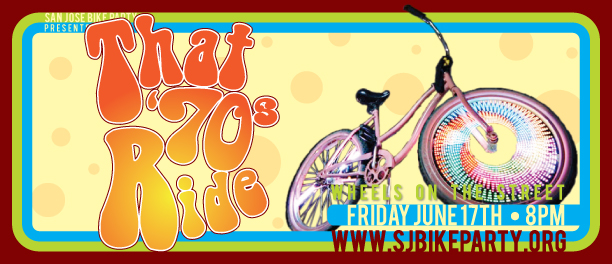 This month's theme is all about the '70s. It's time to dig out your bellbottoms (make sure they don't get caught in the chain) and find your platform shoes. Think disco, leisure suits, big hair, mood rings, pet rocks, and all-steel bikes.
Remember your lights and follow How We Ride! Be safe, legal, and courteous!
Encourage good behavior!
Route and More after the drop…
Help Needed
We need artists to volunteer to do the ride art for our monthly rides. so if you are artistically inclined or know someone who is please drop a line to tanner (at) sjbikeparty.org
Volunteer Circle
We will need volunteers (BIRDs and others) at key intersections, such as at a few stop signs, near freeway exits and before and in the regroups. If you'd like to help us, look for the circle of volunteers that will assemble around 7:30-7:45pm.
Volunteer Needs @ Key Intersection

Scroll to bottom of this page. Anyone can help. Easiest if fastest riders get to these intersections, then if someone replaces them after 15-20minutes.. and then if someone replaces that 2nd group of volunteers.
Ravens
We need to make sure the Start and Regroups are cleaner than how we left them. Please bring trash bags and help clean up.
How We Ride
If you follow these eight rules, Bike Party will be safe and a positive place for riders, drivers, pedestrians, and the community.
1. Stay in the Right Lane – NEVER ride the sidewalk. NEVER ride against oncoming traffic
2. Leave Nothing Behind – Don't trash SJ
3. Stop at Red Lights
4. Ride Straight, Ride Predictability
5. Roll Past Conflict
6. Leave No One Behind
7. Ride Sober! It's illegal and dangerous to ride a bicycle inebriated
8. Communicate to Fellow Riders! (We need your help to remind those who aren't following the rules!)
Route information
Wheels on the street at 8pm!
For Our Non-Riding Friends
For those friends that don't like riding, you can have them join you for the pre-Bike Party festivities starting at 7pm… then walk across the bridge and listen to some great music. Check out the "Wild Life" program at Happy Hollow next door!
$25 at the door
Talent
John Beaver
Ross Fm
Ghetto Superstar DJ "SwitchBlade"
Mr.Tyler Jackson
Dj Yeshua
Thomas Phan
Parking
This is one of the few times we'd love to have you drive to the start! Drive and support programs at Happy Hollow Park & Zoo with your $2 parking fee. If you ride, you are most welcome to donate $2 to the Happy Hollow parking attendant.
Make sure that you park ONLY on the NEW parking lot on Story Rd opposite Remillard Ct… you will be greeted by personnel. There is virtually unlimited parking starting at 7pm… please park in the far end (south) of the lot past the bridge. Please do NOT park in the OLD parking lots on Senter Rd!
Feeder rides
Feeder rides are a great way to get to Bike Party They allow you to make great friends and get to know people who live near you. They also make it super easy to get back home as a group as most folks ride home with the group they arrived with. You save the planet and save on parking while getting a little bit more exercise. It's all good.
NSJ/Santa Clara — Led by Ian from Rivermark – Meet in front of Peets Leaving at 6:15
SCU/Santa Clara — Led by Rapid Robert — Meet at Safeway on The Alameda near SCU. Meet at 7:00pm, leaving at 7:15pm (updated time per Rapid Robert's comments below)
East SJ — Led by Alex — Meet at Carl's Jr, North Jackson & Alum Rock Ave. Meet at 6:45pm, leaving at 7:00pm sharp!
SJ Downtown — Led by Britton (Yellow fixie & black headwrap). Meet at San Jose City Hall by 6:45, leaving at 7:00
Campbell — Led by EdN — Meet at the Pruneyard between 17 and the Outback restaurant. Meet at 6:30pm. Leaving when the Los Gatos ride gets there.
Los Gatos — Led by Couch Bike Dude and TheFerg — Meet at Starbucks by Petco across from Walgreens. Leaving at 6:00pm
Your neighborhood? (let us know in comments below if you want to lead a ride)
Key Intersections
* Start – riders take Left thru intersection (we may have cars coming in)
– narrow driveway – we may need to get all the fast BIRDs …out first, pre-load!

* Keyes & 2nd/1st (short distance)
* stop sign @ Goodyear & Willow
* Willow & Minnesotra or Lincoln & Minnesota (??)
* stop sign on Dry Creek (?)
Regroup #1:
*Union & Woodham
* Union & Samaritan? (we take quick right as we go over Hwy 85)
* Samaritan Dr & southbound hwy 85 exit ramp
* 2425 Samaritan Dr (main entrance to Good Sam Hospital) ***
– critical need here !!
* perhaps a 2nd Good Sam entrance/exit?
* 2 stop signs on LG Blvd (downhill – hope LG Police might help??)
– 2nd one is at a 7-11
* N Santa Cruz Ave (stop salmon riders/try to get riders to stay behind cars)
Regroup #2:
* Winchester & Hacienda
* Haciendea & entrance (ask riders to go past end of long driveway)
* end of long driveway (to get people to go back further)
* Winchester & Campbell (?)
* 3 stop signs on Campbell Ave (???)
* 2 stop signs on Pine (on the ride?)
* Minnesota & Pine (?)