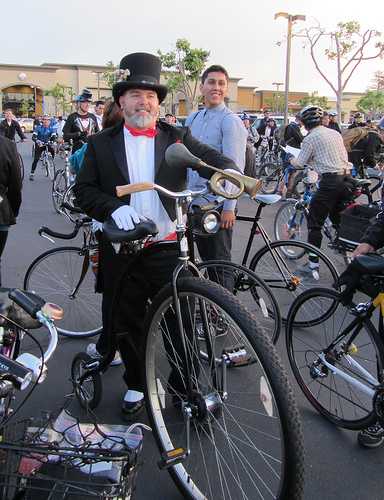 Last Friday, a large number of riders fully embraced the spirit of SJ Bike Party by dancing & dressing in their "formal" wear, from elegant to zany. As more people get into the monthly themes the more enjoyable our rides become. Impromptu dancing used to occur randomly at Bike Party regroups. Glad to see it again! Hope it continues!
This was SJBP's third outreach ride into Stanford and Palo Alto. This time the route traveled via Sunnyvale and Mt. View, filled with communities that are very welcoming, as we headed towards Stanford.
Active participation from four police departments (Sunnyvale, Mt. View, Stanford and Palo Alto) was a welcome sign. Thank you! It was not expected, but was as always, very much appreciated. Your professionalism always shines through.
The weather was finally much better and resulted in a sharp rise in ridership this month (1500-2000?). It's great to see so many new faces mixed in with many that have been going to bike party for a long time. It is encouraging to witness the enthusiasm of the newer riders… as well as seeing many residents and restaurant patrons on sidewalks that enjoyed watching all the cyclists pedal by.
Many great BIRDs (our volunteers) helped with the ride as always, but it is clear that we need more. Test Rides and the Volunteer Mixer (always 10 days before each SJBP – this month it is Wed, June 8th) are the best ways to get more involved in SJBP.
As often happens, some quirky accidents occur with riders, mostly with new/newer riders. But this time more with the experienced riders. Thank you to all those that help out others in need. This is part of what we mean by "Leave no rider behind."
Unfortunately a rider was hit by a car as while the ride passed through Sunnyvale. The police mentioned the rider was riding into oncoming traffic, even though he/she should have heard at least one BIRD yelling to "stay to the right" and "get out of oncoming traffic." Most likely we won't have the benefit of so much police presence on most of the rides the next 3-5 months. So it's up to us to make the ride safe and keep it all under control.
As in any "Prom" there are some that drank too much or crashed the party. SJ Bike Party welcomes all, but if you want to be stupid drunk, abusive to others around you, ride illegally, trash the start & regroups, etc… please stay home! As a ride, San Jose Bike Party wants to be respectful of fellow riders and the communities we ride through. (we did have an issue with trash again)
Discover how much fun riding & sharing the road with pedestrians and drivers alike, can be! We need ALL OF US to spread the word that Bike Party is about building community through bicycling by having fun.
Next month is a "70s" theme. Everyone should get your costumes ready, bring (positive) party attitudes and if you can, come to a test ride or volunteer meeting. Better yet, if you have 2+ rides under your belt/skirt, etc. become a BIRD… there are many ways to help as a BIRD.
To keep this great bike party buzz going, please try out a few of these (you'll find you enjoy bike party even more):
share fun sjbp stories, pics and videos here & on our facebook page
visit your local bike shop and get ready for the next ride & mention bike party – some bike shops give discounts (lights, bike tubes, padded shorts, gloves, etc)
test rides and volunteer meetings will be published soon – join one!
get your costume & dancing moves ready for the next ride ("70's ride")
try making a music system for your bike rack (you can recycle a small PC woofer, tweeter setup) or create a cool music trailer
volunteer – at key intersections, pick up trash (ravens)
when driving to sjbp – park elsewhere – keep the core start area "car free"
cheer good behavior, boo bad behavior
help a BIRD out, back 'em up
learn, live & share the SJBP How We Ride rules