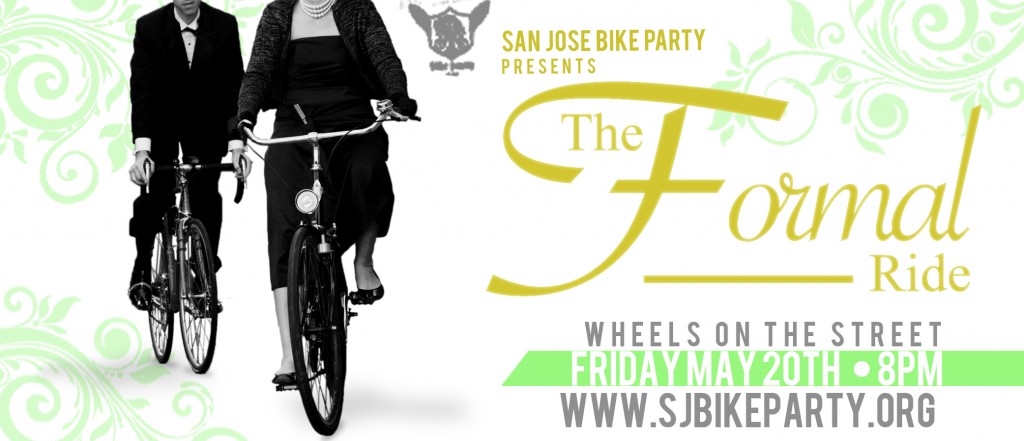 This months theme is the Formal ride so get dressed up and get ready to ride. Don't forget a corsage for your special lady. The night promises to be a night full of awkward dancing and even awkwarder kisses.  Please remember to keep your outfit clear of your chain so you don't have a wardrobe malfunction and end up as the only one at the dance without pants.
The weather looks to be fantastic but as always you need to be prepared for anything.
Remember your lights and follow How We Ride! Be safe, legal, and courteous! Encourage good behavior!
Route and More after the drop…
Route information
Parking
Please avoid parking at the start location so there is room for everyone at the start. Try a feeder ride to get to the start. If you do have to drive, you should be able to find parking across the street from the start.
Feeder rides
Feeder rides are a great way to get to Bike Party They allow you to make great friends and get to know people who live near you. They also make it super easy to get back home as a group as most folks ride home with the group they arrived with. You save the planet and save on parking while getting a little bit more exercise. It's all good.
NSJ/SC Led by Ian from Mercado – Meet in front of Mexicali Grill – Leaving at 6:45
Downtown SJ – Led by Alex – Meet in front of City Hall – Meet at 6:00pm, leaving at 6:15pm
East Side – Led by Matt – Meet at Home Depot at Story and White. Leaving at 5:20pm. Will meet Downtown SJ ride on the way.
Campbell  – Led by Ed – Meet at Campbell Community Center at 6:00pm. Leaving at 6:15pm sharp!
West SJ – Led by Lloyd – Meet near Lawrence and Prospect near Boston Market around 6:30pm. Will wait for Campbell ride to pick us up.
Your neighborhood? (let us know in comments below if you want to lead a ride)