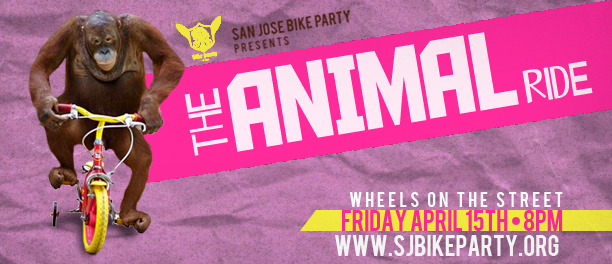 Hurry up and get your taxes done so you can get the tax monkey off of your back. then come out and join us as we ride on the "traditional" tax day! Not yet done with your taxes? Well, the IRS has given you three extra days this year, so take a break and ride!
It's time to get your fur on and let the wild things come on out. The weather looks to be fantastic but as always you need to be prepared for anything.
Remember your lights and follow the How We Ride rules! Be safe, legal, and courteous!
Route and More after the drop…
Route information
Parking
Please avoid parking at the start location. Try a feeder ride to get to the start. If you do have to drive, you should be able to find street parking in the area within easy riding distance.
Music
If you've got a music system, bring it! Bonus points for an animal themed playlist! Please remember to keep the volume levels down as we go through residential areas late at night.
Feeder rides
Feeder rides are a great way to get to Bike Party They allow you to make great friends and get to know people who live near you. They also make it super easy to get back home as a group as most folks ride home with the group they arrived with. You save the planet and save on parking while getting a little bit more exercise. It's all good.
NSJ/SC Led by Ian from Rivermark – Meet in front of peets Leaving at 6:45
Downtown SJ – Led by Britton from City Hall – (wait for the Campbell Feeder to arrive around 7pm)
Campbell via Downtown SJ – (11.4 miles) Led By Ed (Facebook event)
Meet by the Campbell water tower (300 Orchard City Drive). Wheels on the street at 6:30pm SHARP!

Route for Campbell through Downtown Feeder rides: Map, TxT

Your neighborhood? (let us know in comments below)